$1 Trillion on Security, Deadly Experiments on Disabled, Canadian Defense Minister on UFOs
Revealing News Articles
March 8, 2011
Dear friends,
Below are key excerpts of revealing news articles on $1 trillion in U.S. tax dollars spent on national security, deadly government experiments on the disabled, the Canadian defense minister talking openly about a cover-up of UFOs, and more. Each excerpt is taken verbatim from the major media website listed at the link provided. If any link fails to function, click here. The most important sentences are highlighted for those with limited time. By choosing to educate ourselves and to spread the word, we can and will build a brighter future.
With best wishes,
Fred Burks for PEERS and WantToKnow.info
Special note: For powerful evidence the polio vaccine has caused thousands of cases of cancer, watch the stunning video and read the excellent essay by Dr. Mercola at this link. To learn about the more than $100 billion reported in Wisconsin CAFR state asset reports but kept quiet from the public, click here. Wisconsin is far from bankrupt. And for a fascinating History Channel documentary on amazing ancient structures under the ocean called the Yonaguni pyramids found off the coast of Japan, click here. Lots of solid evidence in the this piece suggests the evidence of civilizations much older the most historians believe possible.
Please help: Your donations help to keep this quality news service going. Please click here to donate.
Image of the Week: Based on U.S. Congressional Budget Office report. Excellent article available here.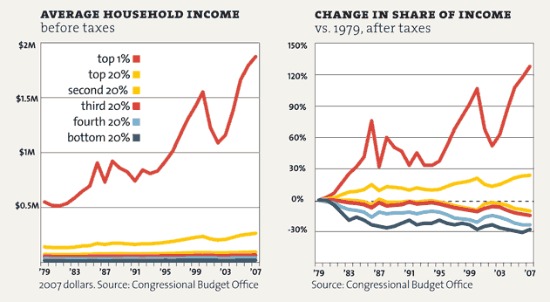 ---
The figure in the new budget proposal nobody in power wants you to notice
March 1, 2011, CBS News
http://www.cbsnews.com/stories/2011/03/01/opinion/main20038078.shtml
Normally, in media accounts, you hear about the Pentagon budget and the war-fighting supplementary funds passed by Congress for our conflicts in Iraq and Afghanistan. That already gets you into a startling price range -- close to $700 billion for 2012 -- but that's barely more than half of it. If Americans were ever presented with the real bill for the total U.S. national security budget, it would actually add up to more than $1.2 trillion a year. Take that in for a moment. It's true; you won't find that figure in your daily newspaper or on your nightly newscast, but it's no misprint. It's the real thing when it comes to your tax dollars. The simplest way to grasp just how Americans could pay such a staggering amount annually for "security" is to go through what we know about the U.S. national security budget, step by step, and add it all up. [Click here for details] Still, don't for a second think that $1.2 trillion is the actual grand total for what the U.S. government spends on national security. Former Secretary of Defense Donald Rumsfeld once famously spoke of the world's "known unknowns." Explaining the phrase this way: "That is to say there are things that we now know we don't know." It's a concept that couldn't apply better to the budget he once oversaw. American taxpayers should know just what they are paying for.
Note: When discussing budget cuts, why is it we never hear about cuts to the massive national security budget? Donald Rumsfeld also once admitted that the Pentagon couldn't track $2.3 trillion in transactions, as reported by CBS News in this video clip. For lots more on the rampant corruption of military funds, click here. And for a top US general revealing how bankers and industry tycoons rake in profits from war, click here.
---
Britain can push democracy or weapons – but not both
February 22, 2011, The Guardian
http://www.guardian.co.uk/commentisfree/2011/feb/22/britain-push-democracy-weapons-cameron
The present British government, like its predecessor, claims to pursue a policy of "liberal interventionism", seeking the downfall of undemocratic regimes round the globe, notably in the Muslim world. The same British government, again like its predecessor, sends these undemocratic regimes copious weapons to suppress the only plausible means of the said downfall, popular insurrection. The contradiction is glaring. Downing Street is clearly embarrassed by Egypt, Bahrain and Libya having had the impertinence to rebel just as David Cameron was embarking on an important arms-sales trip to the Gulf, not an area much addicted to democracy. Fifty British arms makers were present at last year's sickening Libyan arms fair, while the resulting weapons are reportedly prominent in gunning down this week's rioters. Cameron reads from the Foreign Office [FO] script, claiming that all guns, tanks, armoured vehicles, stun grenades, tear gas and riot-control equipment are "covered by assurances that they would not be used in human rights repression". He must know this is absurd. What did the FO think Colonel Gaddafi meant to do with sniper rifles and tear-gas grenades – go mole hunting? Sales to dictators are covered by the usual excuse: "If we do not sell to them someone else will." If we choose to make the Arabs' path harder by arming their oppressors, fine, but we should not proclaim "liberal interventionism". If we proclaim interventionism, we should not sell weapons. Meddling in other people's business is rarely wise. Two-faced meddling is hypocrisy.
Note: For a top US general's revelations on how war is largely a racket run by bankers and wealthy businessmen, click here. And for lots more revealing information on war manipulations, see our War Information Center at this link.
---
Shocking History of Medical Experiments on People
February 27, 2011, ABC News/Associated Press
http://abcnews.go.com/Health/wireStory?id=13012856
Shocking as it may seem, U.S. government doctors once thought it was fine to experiment on disabled people and prison inmates. Such experiments included giving hepatitis to mental patients in Connecticut, squirting a pandemic flu virus up the noses of prisoners in Maryland, and injecting cancer cells into chronically ill people at a New York hospital. Much of this horrific history is 40 to 80 years old, but it is the backdrop for a meeting in Washington this week by a presidential bioethics commission. The meeting was triggered by the government's apology last fall for federal doctors infecting prisoners and mental patients in Guatemala with syphilis 65 years ago. U.S. officials also acknowledged there had been dozens of similar experiments in the United States. Inevitably, they will be compared to the well-known Tuskegee syphilis study. In that episode, U.S. health officials tracked 600 black men in Alabama who already had syphilis but didn't give them adequate treatment even after penicillin became available. Though people in the studies were usually described as volunteers, historians and ethicists have questioned how well these people understood what was to be done to them and why, or whether they were coerced. In the last 15 years, two international studies sparked outrage. U.S.-funded doctors failed to give the AIDS drug AZT to all the HIV-infected pregnant women in a study in Uganda even though it would have protected their newborns. The other study, by Pfizer Inc., gave an antibiotic named Trovan to children with meningitis in Nigeria, although there were doubts about its effectiveness. Critics blamed the experiment for the deaths of 11 children and the disabling of scores of others. Pfizer settled a lawsuit with Nigerian officials for $75 million but admitted no wrongdoing.
Note: Though it appears these highly unethical studies have stopped in the US, the article points out that many drug companies are now doing their studies in countries where ethical codes are not strong. For an astounding list of government-sponsored programs where humans were used as guinea pigs, click here. For a two-page summary of solid evidence of government involvement in mind control programs, click here.
---
Former Canadian Defense Official Blasts US on UFO Cover-Up
February 25, 2011, AOL News
http://www.aolnews.com/2011/02/25/former-canadian-defense-official-blasts-us-on-ufo-cover-up
If a previous minister of national defense of a big country started talking publicly about his belief that some UFOs are interplanetary vehicles carrying visitors to Earth, would you believe him or not? Well, stepping up to the plate is the Honorable Paul Hellyer, a former deputy prime minister of Canada and the longest serving current member -- ahead of Prince Philip -- of the Queen's Privy Council, which is made up of "prominent Canadians appointed to advise the queen on issues of importance to the country." As Canadian minister of national defense in 1963, Hellyer was responsible for integrating and unifying the Royal Canadian army, navy and air force into a single organization, the Canadian Armed Forces. "Oh, I'm absolutely convinced of it. These things were not invented here," Hellyer told AOL News. This week, he's presenting his views on UFOs at the International UFO Congress in Scottsdale, Ariz. Trusted political and scientific sources whom Hellyer has talked to have suggested that the United States has developed new forms of energy at top-secret "black operation" installations, using reportedly extraterrestrial technology. In his book "Light at the End of the Tunnel: A Survival Plan for the Human Species," Hellyer claims that an American "shadow government" is behind this activity. "Paul Hellyer's story is an important contribution to the literature of modern Western civilization. His experience in government, his interest in exopolitics and the issues of sustainability of civilization are significant areas of current discourse," wrote Apollo 14 astronaut Edgar Mitchell, founder of the Institute of Noetic Sciences.
Note: Hellyer is one of literally hundreds of military and government officials who have gone public revealing their own personal involvement with a major UFO cover-up. A former chief of defense from England also went public before his death. For riveting testimony of some key high-ranking officials, click here and here. For other major media articles reporting on this and much more, click here. For a talk by WantToKnow.info's Fred Burks at last year's UFO Congress, click here.
---
The Shock Doctrine with Naomi Klein
February 18, 2011, MSNBC News
http://www.msnbc.msn.com/id/41702708
Chris Hayes: With me now is journalist and author Naomi Klein whose books include "No Logo" and "The Shock Doctrine. The Rise of Disaster Capitalism." Not all of our viewers have "The Shock Doctrine." I've seen a few people recently talking about how ... they were skeptical of the thesis before, but what's happening in Wisconsin is making them a little more receptive to it. Describe what the thesis of "The Shock Doctrine" is and how it applies in what we're seeing play out in Wisconsin. Naomi Klein: What I argue in "The Shock Doctrine" is that if you look at the 30-year history of the triumph of [disastrous] policies around the world, what you see is that you're great leaps forward happened during times of extreme crisis. That's because in a time of crisis, you have politicians able to do exactly what Scott Walker is doing right now in Wisconsin, which is say, the roof is falling in, we have a state of emergency here, we don't have time for democracy or public consent or deliberation or collective bargaining. So, it becomes an opportunity to ram through these unpopular policies. You have a budget crisis. You exaggerate the extent of the crisis and ... say we don't have any alternative but to push through these very unpopular measures. I think it's [particularly] significant that they're going after collective bargaining. They're trying to reduce the ability of participation of the workers in their own futures. It's a constricting of democracy. I end the book by saying that the way you resist these tactics is by understanding that they're happening while they're happening. What's happening in Wisconsin, is an excellent example of what I describe as shock resistance, because people are naming this while its happening.
Note: Many don't know that when Wisconsin Governor Walker ordered police to remove protestors from the state capitol building, the police refused, stating that they took an oath to serve the people and not the governor. To see a two-minute video clip of this amazing event, click here. To see how the major media greatly downplayed this event, read the New York Times coverage available here.
---
Shock Doctrine, U.S.A.
February 24, 2011, New York Times
http://www.nytimes.com/2011/02/25/opinion/25krugman.html
The story of the privatization-obsessed Coalition Provisional Authority [created by Bush in Iraq in 2003] was the centerpiece of Naomi Klein's best-selling book "The Shock Doctrine," which argued that it was part of a broader pattern. From Chile in the 1970s onward, she suggested, right-wing ideologues have exploited crises to push through an agenda that has nothing to do with resolving those crises, and everything to do with imposing their vision of a harsher, more unequal, less democratic society. Which brings us to Wisconsin 2011, where the shock doctrine is on full display. In recent weeks, Madison has been the scene of large demonstrations against the governor's budget bill, which would deny collective-bargaining rights to public-sector workers. Gov. Scott Walker claims that he needs to pass his bill to deal with the state's fiscal problems. But his attack on unions has nothing to do with the budget. What's happening in Wisconsin is, instead, a power grab – an attempt to exploit the fiscal crisis to destroy the last major counterweight to the political power of corporations and the wealthy. And the power grab goes beyond union-busting. The bill in question is 144 pages long, and there are some extraordinary things hidden deep inside. For example, the bill includes language that would allow officials appointed by the governor to make sweeping cuts in health coverage for low-income families without having to go through the normal legislative process. The state of Wisconsin owns a number of plants supplying heating, cooling, and electricity to state-run facilities. The language in the budget bill would ... let the governor privatize any or all of these facilities. Not only that, he could sell them, without taking bids, to anyone he chooses. And note that any such sale would, by definition, be "considered to be in the public interest."
Note: For an abundance of major media articles revealing rampant government corruption, click here.
---
Why those from 'Inside Job' aren't inside a prison
March 1, 2011, San Francisco Chronicle (San Francisco's leading newspaper)
http://www.sfgate.com/cgi-bin/article.cgi?f=/c/a/2011/02/28/BURF1HV7AV.DTL
"Forgive me," said Berkeley filmmaker Charles Ferguson upon receiving an Academy Award on Sunday night for his documentary "Inside Job." "I must start by pointing out that three years after a horrific financial crisis caused by fraud, not a single financial executive has gone to jail - and that's wrong." A number of people would agree, including a majority of Americans, according to opinion polls, who blame U.S. banks and other private institutions for the 2007-08 financial meltdown documented in Ferguson's film. "He raised exactly the right question," said William Black, a senior regulator at the former Federal Savings and Loan Insurance Corp., which helped clean up the far less costly S&L crisis of the late 1980s and early 1990s. More than 1,800 S&L officials were convicted of felonies in its aftermath, with more than 1,000 jailed. But the difference between then and now - and with the 1929 crash, which saw a number of bankers go to jail - is open to much debate. "We had well over 10,000 criminal referrals from regulators in the S&L crisis," said Black, now an associate professor of economics and law at the University of Missouri-Kansas City School of Law. "This time, zero."
Note: For other major media articles revealing the vast extent of unmitigated corruption related to the banking bailouts, click here. For reliable, eye-opening information on how the public is continually deceived about banking, click here. And for an excellent study guide on the facts presented in this revealing film, click here.
---
Equal Rights Takes to the Barricades
February 1, 2011, New York Times
http://www.nytimes.com/2011/02/02/world/middleeast/02iht-letter02.html
CAIRO – People here are not afraid anymore – and it just may be that a woman helped break that barrier of fear. Asmaa Mahfouz was celebrating her 26th birthday on Tuesday among tens of thousands of Egyptians as they took to the streets, parting with old fears in a bid to end President Hosni Mubarak's three decades of authoritarian, single-party rule. "As long as you say there is no hope, then there will be no hope, but if you go down and take a stance, then there will be hope." That was what Ms. Mahfouz had to say in a video she posted online more than two weeks ago. She spoke straight to the camera and held a sign saying she would go out and protest to try to bring down Mr. Mubarak's regime. It was a woman who dared put a face to the message, unfazed by the possibility of arrest for her defiance. "Do not be afraid," she said. To her surprise, dozens of other people picked up on the spirit of her message and started to post their own pictures, holding similar signs to their chests that declared their intent to take to the streets. Ms. Mahfouz is one of the founders of the April 6 Youth Movement, a group of young, Internet-savvy activists who have been credited with a leading role in organizing the mass protests. She uses Facebook and Twitter as convenient methods for organizing and disseminating messages but finds that talking to people face to face is the best way to motivate them. Although it is still overwhelmingly men demonstrating, there is a new quality to the way Egyptians walk the streets now. "Everyone used to say there is no hope, that no one will turn up on the street, that the people are passive," Ms. Mahfouz said. "But the barrier of fear was broken!"
Note: Watch this video and learn how without this one woman, Mubarak might still be in power. One person can make a huge difference. For powerful and inspiring information on the military/industrial complex and what we can do to make a difference, click here.
---
Scientist warns on safety of Monsanto's Roundup
February 24, 2011, MSNBC/Reuters
http://www.msnbc.msn.com/id/41759713
Questions about the safety of a popular herbicide made by Monsanto Co have resurfaced in a warning from a U.S. scientist that claims top-selling Roundup may contribute to plant disease and health problems for farm animals. Plant pathologist and retired Purdue University professor Don Huber has written a letter to U.S. Agriculture Secretary Tom Vilsack warning that a newly discovered and widespread "electron microscopic pathogen appears to significantly impact the health of plants, animals, and probably human beings." Huber coordinates a committee of the American Phytopathological Society as part of the USDA National Plant Disease Recovery System. Huber said the organism has been found in high concentrations of Roundup Ready soybean meal and corn, which are used in livestock feed. He said laboratory tests have confirmed the presence of the organism in pigs, cattle and other livestock that have experienced spontaneous abortions and infertility. The organism is also prolific in corn and soybean crops stricken by disease, according to Huber. "It should be treated as an emergency." He requested USDA participation in an investigation, and he urged a moratorium on approvals of Roundup Ready crops. USDA officials declined to comment about the letter's contents. Roundup has long been a draw for critics, who say the herbicide promotes widespread weed resistance, or "super weeds." "While the evidence is considered preliminary, the potential damage to humans and animals is severe," said Jeffrey Smith, executive director of the Institute for Responsible Technology. There have been other alarms raised about Roundup, including a report last year from Argentine scientists who claimed that Roundup can contribute to birth defects in frogs and chickens.
Note: For other revealing major media articles showing the clear risks and dangers of genetically modified foods already on our plates, click here. For a vital essay by Jeffrey Smith detailing scientific studies where lab animals died from eating these foods, click here.
---
Hidden universes revealed
February 9, 2011, MSNBC
http://cosmiclog.msnbc.msn.com/_news/2011/02/09/6020352-hidden-universes-revealed
Is it preposterous to consider the existence of parallel universes? Or is it preposterous not to? Physicist Brian Greene would tend toward the latter view. The Columbia University theoretical physicist's latest book, "The Hidden Reality: Parallel Universes and the Deep Laws of the Cosmos," follows up on his two earlier books for popular audiences, "The Elegant Universe" and "The Fabric of the Cosmos." Those works presented step-by-step guides to string theory and space-time, respectively, leavened with pop-culture references and analogies drawn from everyday life. Greene doesn't explain just one scenario in which unreachable universes co-exist alongside our own. He delves into nine possibilities, drawn from different corners of scientific speculation. As a string theorist, Greene is used to ... criticism. Like parallel universes, the idea that matter's fundamental building blocks are tiny vibrating strings or multidimensional membranes has often been knocked as unprovable, unverifiable, unfalsifiable speculation. "That's provocative nonsense," Greene [commented]. Theorists are not just pulling this stuff out of thin air. Rather, they're being led to seemingly wild conclusions while working within what he called "the tight straitjacket of mathematics." The math is clearly suggesting that there may be other universes out there.
Note: For an excerpt from Greene's intriguing book, click here. For summaries of many other major media articles which raise fascinating questions which stretch our beliefs of what is real, click here. And for lots more intriguing information presenting evidence for a rich new paradigm, click here.
---
'He does not remember it': RFK killer seeks parole
February 28, 2011, MSNBC News/Associated Press
http://www.msnbc.msn.com/id/41822218/ns/us_news-crime_and_courts/
More than four decades after Sen. Robert F. Kennedy was assassinated, his convicted murderer wants to go free for a crime he says he can't remember. It's been this way almost from the beginning. Hypnotists and psychologists, lawyers and investigators have tried to jog his memory with no useful result. "There is no doubt he does not remember the critical events," said William F. Pepper, the attorney who will argue for Sirhan's parole. "He is not feigning it. He does not remember it." Pepper, a New York-based lawyer who also is a British barrister, is the latest advocate of a second gunman theory. Believers claim 13 shots were fired while Sirhan's gun held only eight bullets and that the fatal shot appeared to come from behind Kennedy while Sirhan faced him. Pepper also suggests Sirhan was "hypno-programmed," turning him into a virtual "Manchurian Candidate." Pepper said ... that he has had Sirhan examined several times by psychologist Daniel Brown of Harvard University, an expert in hypnosis of trauma victims. "There have been substantial breakthroughs. It was very clear to me that this guy did not kill Bob Kennedy," said Pepper. The lawyer notes that he has a personal tie to Kennedy, having been chairman of his citizens' committee when he ran for Senate in 1964. Pepper also represented James Earl Ray, through 10 years of appeals and a civil trial which he said proved that Ray was not King's killer. By then Ray was dead. By all accounts, Sirhan has been a model prisoner. Sirhan is a Christian and had no ties to terrorist groups.
Note: Few people know about the US civil trial in 1999 in Memphis where a jury took only one hour to rule that elements within government were guilty of conspiring to shoot Dr. Martin Luther King. For an astounding six-minute news clip on this little reported trial, click here. For summaries of many other major media articles suggesting a cover-up around the assassinations of JFK, RFK, and MLK, click here.
---
Are America's Best Days Behind Us?
March 3, 2011, Time Magazine
http://www.time.com/time/nation/article/0,8599,2056610-1,00.html
Most Americans operate on the assumption that the U.S. is still No. 1. But is it? Yes, the U.S. remains the world's largest economy, and we have the largest military by far, the most dynamic technology companies and a highly entrepreneurial climate. But ... the decisions that created today's growth – decisions about education, infrastructure and the like – were made decades ago. The following rankings come from various lists, but they all tell the same story. Our 15-year-olds rank 17th in the world in science and 25th in math. We rank 12th among developed countries in college graduation (down from No. 1 for decades). We come in 79th in elementary-school enrollment. Our infrastructure is ranked 23rd in the world, well behind that of every other major advanced economy. American health numbers are stunning for a rich country: based on studies by the OECD and the World Health Organization, we're 27th in life expectancy, 18th in diabetes and first in obesity. Only a few decades ago, the U.S. stood tall in such rankings. No more. There are some areas in which we are still clearly No. 1, but they're not ones we usually brag about. We have the most guns. We have the most crime among rich countries. And, of course, we have by far the largest amount of debt in the world. Reducing funds for things like education, scientific research, air-traffic control, NASA, infrastructure and alternative energy will not produce much in savings, and it will hurt the economy's long-term growth. It would happen at the very moment that countries from Germany to South Korea to China are making large investments in education, science, technology and infrastructure.
Note: In discussing how the U.S. can reduce it's staggering debt, this article, like almost every major media article, fails to even mention the possibility of cutting our huge military budget. For why this is, click here.
---
Mass. company making diesel with sun, water, CO2
February 27, 2011, BusinessWeek/Associated Press
http://www.businessweek.com/ap/financialnews/D9LLD31G1.htm
A Massachusetts biotechnology company says it can produce the fuel that runs Jaguars and jet engines using the same ingredients that make grass grow. Joule Unlimited has invented a genetically-engineered organism that it says simply secretes diesel fuel or ethanol wherever it finds sunlight, water and carbon dioxide. [The] company says it can manipulate the organism to produce the renewable fuels on demand at unprecedented rates, and can do it in facilities large and small at costs comparable to the cheapest fossil fuels. What can it mean? No less than "energy independence," Joule's web site tells the world, even if the world's not quite convinced. "We make some lofty claims, all of which we believe, all which we've validated," said Joule chief executive Bill Sims. Joule was founded in 2007. In the last year, it's roughly doubled its employees to 70, closed a $30 million second round of private funding in April and added John Podesta, former White House chief of staff under President Bill Clinton, to its board of directors. The company worked in "stealth mode" for a couple years before it recently began revealing more about what it was doing. This month, it released a peer-reviewed paper it says backs its claims. Joule says its organisms secrete a completed product, already identical to ethanol and the components of diesel fuel, then live on to keep producing it at remarkable rates. Joule claims, for instance, that its cyanobacterium can produce 15,000 gallons of diesel full per acre annually, over four times more than the most efficient algal process for making fuel. And they say they can do it at $30 a barrel. The company plans to break ground on a 10-acre demonstration facility this year, and Sims says they could be operating commercially in less than two years.
Note: For many other fascinating new energy inventions reported in the major media which should be making news headlines, click here. For a powerful two-page summary showing why these amazing inventions get so little attention and are sometimes even suppressed, click here.
---
Shy U.S. Intellectual Created Playbook Used in a Revolution
February 16, 2011, New York Times
http://www.nytimes.com/2011/02/17/world/middleeast/17sharp.html
Stoop-shouldered and white-haired at 83, [Gene Sharp] grows orchids, has yet to master the Internet and hardly seems like a dangerous man. But for the world's despots, his ideas can be fatal. For decades, his practical writings on nonviolent revolution – most notably "From Dictatorship to Democracy," a 93-page guide to toppling autocrats, available for download in 24 languages – have inspired dissidents around the world, including in Burma, Bosnia, Estonia and Zimbabwe, and now Tunisia and Egypt. When Egypt's April 6 Youth Movement was struggling ... its leaders tossed around "crazy ideas" about bringing down the government. They stumbled on Mr. Sharp. When the nonpartisan International Center on Nonviolent Conflict, which trains democracy activists, slipped into Cairo several years ago ... among the papers it distributed was Mr. Sharp's "198 Methods of Nonviolent Action," a list of tactics that range from hunger strikes to "protest disrobing." Dalia Ziada, an Egyptian blogger and activist who attended the workshop ... said trainees were active in both the Tunisia and Egypt revolts. She said that some activists translated excerpts of Mr. Sharp's work into Arabic, and that his message of "attacking weaknesses of dictators" stuck with them. He has concluded that advancing freedom takes careful strategy and meticulous planning, advice that ... resonated among youth leaders in Egypt. Peaceful protest is best, he says – not for any moral reason, but because violence provokes autocrats to crack down. "If you fight with violence," Mr. Sharp said, "you are fighting with your enemy's best weapon, and you may be a brave but dead hero." He was struck by the Egyptian protesters' discipline in remaining peaceful, and especially by their lack of fear. "If people are not afraid of the dictatorship, that dictatorship is in big trouble."
Note: For powerful and inspiring information on the military/industrial complex and what we can do to make a difference, click here.
---
Key Articles From Years Past
---
History in black and white
January 26, 1997, The Telegraph (One of the UK's leading newspapers)
http://www.independent.co.uk/arts-entertainment/history-in-black-and-white-1285334.html
[Review of] RHODES: The Race for Africa by Antony Thomas, BBC Books. The book is ... intelligent, detailed, well-researched and credibly nuanced. The book's aim is to kill off once and for all the public-schoolboy perception of [Cecil] Rhodes as the model Englishman who selflessly deployed his vast diamond wealth to the task of civilising Southern Africa while adding, virtually single-handedly, a chunk of territory the size of Europe to Her Majesty's imperial possessions. The picture that persuasively emerges in the book [is] of a man of immense charm and demonic single-mindedness. Rhodes ... tailored his rhetoric to suit an age when lust for acquisition had to be dressed in the garb of moral rectitude. Thus the famous lines from his precocious personal credo, drafted at the age of 23: "I contend that we are the finest race in the world, and the more of the world we inhabit, the better it is for the human race." Business ... was the medium he employed to pursue personal power. He beat his rivals not by fighting them but by seducing them. By bribery (Rhodes coined the expression "every man has his price") or sheer force of personality, or more often both, he submitted members of the British cabinet, Kruger's Boers and proud African chieftains to his colossal will. Such were his powers of persuasion that after a smallpox epidemic struck Kimberley in 1883, he prevailed upon local doctors to sign false documents declaring the outbreak to be a rare skin disease. Thus did he prevent the temporary closure of his diamond mines and thus did at least 751 people needlessly, hideously die. By the end of the book Thomas leaves us in no doubt as to Rhodes' greatness, but he concludes that it was a misdirected greatness, a story of talents squandered and opportunities lost.
Note: Often portrayed in history books as one of the most influential men of the 19th century, Rhodes not only believed his was the superior race, in his will he advocated "for the establishment, promotion and development of a Secret Society, the true aim and object whereof shall be for the extension of British rule throughout the world." For major media reports revealing other secret societies with likely similar aims, click here. For more information on Rhodes and secret societies from Caroll Quigley's epic Tragedy and Hope, click here.
---
WWII War Crimes List in 1996 Puzzles Japan
December 13, 1996, Los Angeles Times
http://articles.latimes.com/1996-12-13/news/mn-8706_1_wwii-war-crimes
Why has the United States decided to crack down on suspected Japanese war criminals 50 years after granting them immunity from prosecution? Japanese scratched their heads last week at the unexpected announcement that the U.S. Justice Department had included former members of an infamous bacterial warfare research unit on a "watch list" of 16 suspected Japanese World War II war criminals prohibited from entering the United States. The United States has been aware of the identities of the Unit 731 leaders and of their gruesome experiments on human subjects since the end of the war. Details of Unit 731 atrocities have appeared in the Western and Japanese media for more than a decade. In secret laboratories in occupied China, Unit 731 researchers tested poison gas and biological weapons on prisoners; froze and defrosted victims' limbs to study frostbite; and vivisected humans without anesthetic. After the war, the United States concluded that the results of these experiments were "of the highest intelligence value." Fearful that those results would fall into Soviet hands, the U.S. occupation authorities gave the head of Japan's bacterial warfare program, Dr. Shiro Ishii, and his colleagues immunity from prosecution ... in exchange for their secret data. Many of Ishii's colleagues went on to distinguished careers in postwar Japan, holding posts in the National Institute of Health, serving as medical school deans and laboratory heads.
Note: The military has repeatedly condoned horrendous research on live subjects. For a revealing list of highly unethical experimentation on human over the past 75 years, click here. For a concise summary of the government's secret quest to control the mind and human behavior no matter what the cost, click here.
---
Finding Balance: WantToKnow.info Inspiration Center
WantToKnow.info believes it is important to balance disturbing cover-up information with inspirational writings which call us to be all that we can be and to work together for positive change. For an abundance of uplifting material, please visit our Inspiration Center.
See our exceptional archive of revealing news articles.
Explore the mind and heart expanding websites managed by the nonprofit PEERS network:
Subscribe here to the WantToKnow.info email list (two messages a week)