Beyond Isolation and Polarization: All Transformation is the Welcoming of the Stranger
"At critical junctures, outer trouble and the inner need to grow conspire to set each of us on a path of awakening and initiation."
― Michael Meade, The Water of Life: Initiation and the Tempering of the Soul
Dear PEERS subscribers,
Recently, I spent a profound weekend at a leadership retreat in the woods of Minnesota, connecting with social change leaders around the world. We explored the thresholds of change we're in, individually and as a society. There was a deep acknowledgment of the helplessness, fear, and grief many of us feel: illness, loss, death, war, violence, diminishing trust in our institutions and leaders. Feeling this together was a profound reminder that we are not alone. The thread of humanity connects us all, no matter how different we are from each other.
Community building leader and founder of Common Good Collective Peter Block joined our process one of the days, and stunned us all with a powerful quote. All transformation is the welcoming of the stranger. How do we stay open to the unfamiliar: the people, events, and ideas that are different than what we know? How do we suspend our certainty and need for answers in a time where we truly don't know where we're heading as a society?
This comes at a crucial time in which we're more diverse and life is more complex than ever. Alternative media platforms, political/religious beliefs and identities, and different socio-cultural movements reveal how each of us have our own version of truth and how we see the world. At this retreat, many of us had significantly different beliefs about politics and the world. It was a humbling opportunity to learn how to be in community in real ways, where disagreements didn't divide us; they simply allowed for deeper inquiry together. We listened to each other, lowered our defenses, made new connections, paused between shares, and maintained our sense of shared humanity.
Propaganda ends where simple dialogue begins. – Jacques Ellul, French political and social scientist
How can this change the quality of conversation we have across the (often vast) differences in information, media, and ideas we consume? And instead of waiting for (or focusing on) our world leaders to practice this, how might we practice this in our lives, expanding who we include in our circles and communities? In fact, I now resolve to interact with more people who don't see the world the way I do, specifically those who put their faith in official narratives about controversial issues shaping our lives.
Psychologist Abraham Maslow once said that world problems and crises cannot be solved in isolation any longer. Isolation and polarization that comes with sticking to what we know become a disadvantage in being able to solve our own increasingly complex and diverse problems. Being isolated by our own answers is often the foundation of global world conflicts. We become blinded by our own narratives, increasingly unable to perceive the world on a wider plane, not willing to understand or empathize with the plights of others. Thus, conflict, war, exclusion, and violence occur in order to convince or conquer groups that do not perceive the world as we do.
Leaders will remain stuck in dichotomous thinking, and due to their isolation, will trigger a need to force attributes of security, familiarity and sameness unto others, to create a sort of manageability to alleviate their growing insecurity, trying to find their solace in an artificially created, simplistic universe, in stereotypes and in a static, polarized world."
– Henry Venter, "Self-Transcendence: Maslow's Answer to Cultural Closeness"
During the retreat, Block shared that the opposite of love isn't hate, it's certainty and being right. Answers keep us apart, and questions bring us together.
Here were some of the questions that came up during the retreat:
How can any room I'm in be an expression of the world I want to live in?

Who/what do I trust?

Where are my blind spots? What am I defending myself against?

In order to help heal the world, what needs healing in me?
The question below particularly struck me.
What's the question that, if answered, would see you free?
For me, a second question emerged after asking this question. In order to better serve as an effective translator within our polarizing media landscape, am I willing to embrace the gifts that I am?  
Doing my inner work, diversifying my views, and holding onto a sense of the greater good. These are all in my control. Much of activism seems to be focused solely on having answers about what we fear, what's going wrong, and who's to blame. Fear is a part of the human condition and shows we care. Yet it may not be useful for real societal change if it cuts us off from different people or ways of thinking, or our ability to envision a world that's more free, connected, and sensible. At PEERS, we believe that succumbing to polarization and fear enables the control regime to exert more control over our lives and the world. 
While we processed these questions at the retreat, I felt called to share a poem with the group that has deeply touched me over the years. I want to share it with you all too. I'm a firm believer that art is a meaningful catalyst for social change and collective awakening. As social activist Toni Cade Bambara once said, "art makes the revolution irresistible."
Enjoy this thoughtful poem by Greg Kimura below.
With faith in a transforming world,
Amber Yang for the PEERS empowerment websites
Cargo
By Greg Kimura

You enter life a ship laden with meaning, purpose and gifts
sent to be delivered to a hungry world.
And as much as the world needs your cargo,
you need to give it away.
Everything depends on this.
But the world forgets its needs,
and you forget your mission,
and the ancestral maps used to guide you
have become faded scrawls on the parchment of dead Pharaohs.
The cargo weighs you heavy the longer it is held
and spoilage becomes a risk.
The ship sputters from port to port and at each you ask:
"Is this the way?"
But the way cannot be found without knowing the cargo,
and the cargo cannot be known without recognizing there is a way,
and it is simply this:
You have gifts.
The world needs your gifts.
You must deliver them.
The world may not know it is starving,
but the hungry know,
and they will find you
when you discover your cargo
and start to give it away.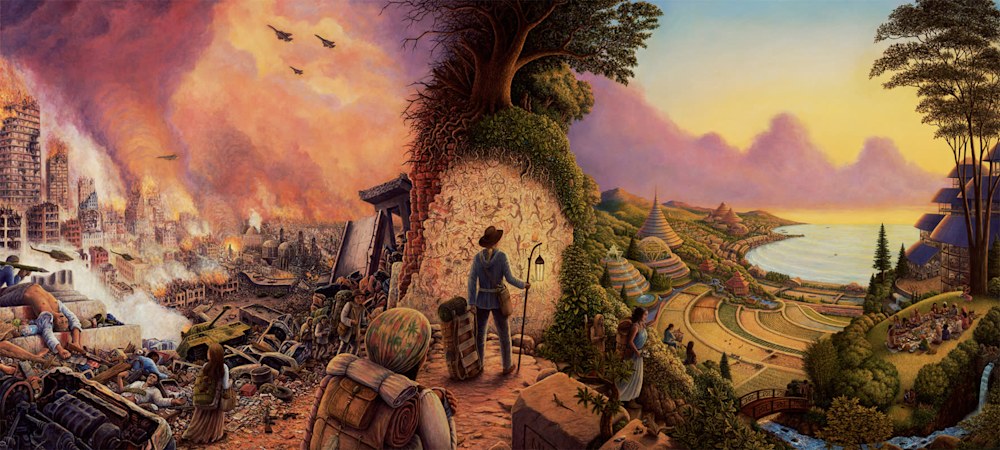 See the exceptional collection of resources in our Inspiration Center
Kindly support this work: Donate here
Explore the mind and heart expanding websites managed by the nonprofit PEERS network:
Subscribe here to one of the two popular PEERS email lists