Free-hug man speaks out
Key Excerpts from Article on Website of Sydney Morning Herald (Australia's leading newspaper)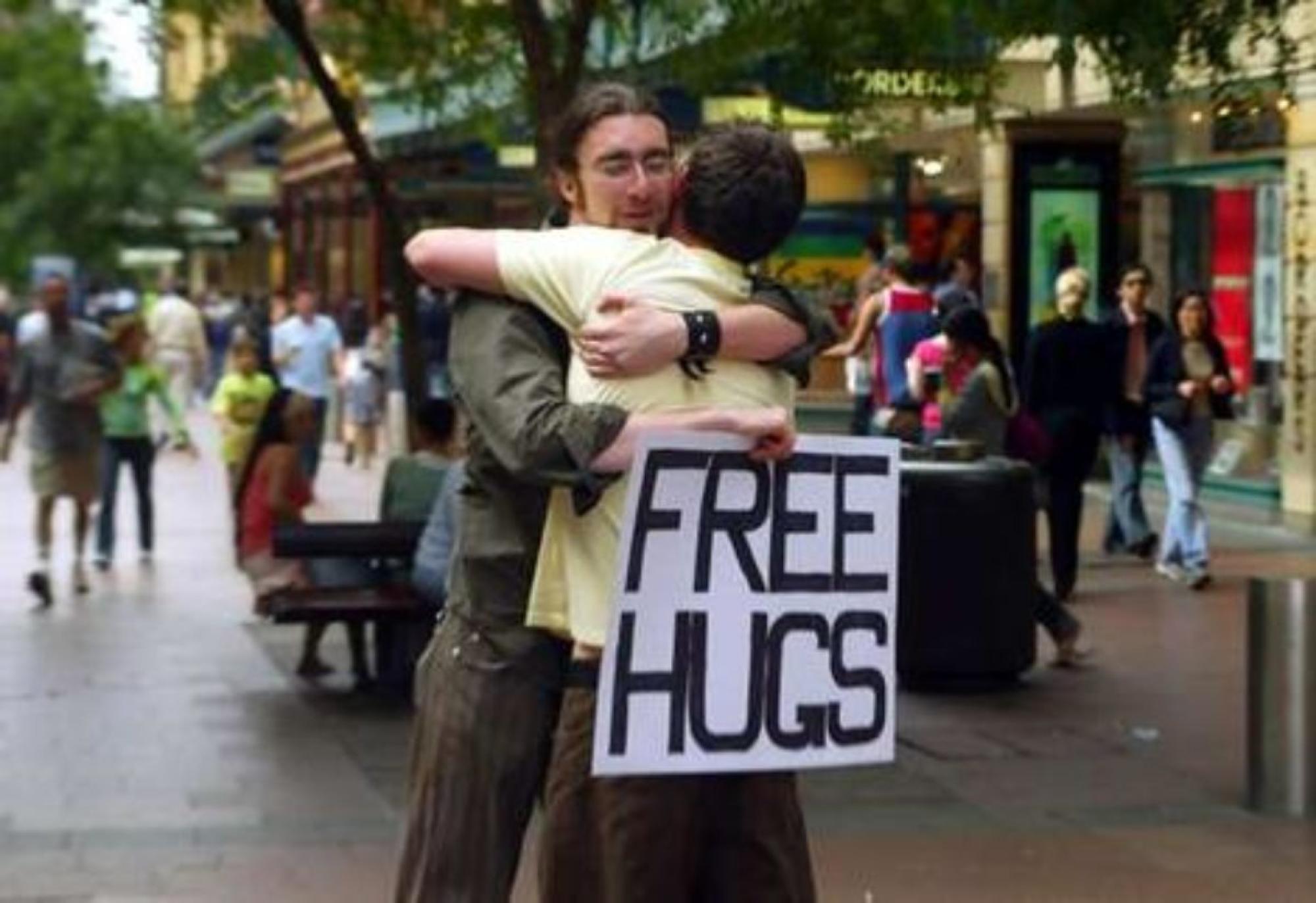 ---
Sydney Morning Herald (Australia's leading newspaper), September 28, 2006
Posted: November 11th, 2006
http://www.smh.com.au/news/music/freehug-man-speaks-out/2006...
The man behind the latest YouTube sensation has spoken out for the first time about his global cuddling controversy. Serial hugger Juan Mann describes the free hugs he hands out...as fast-food emotion. His cuddling campaign received an international dose of publicity today, after a clip showing his public displays of affection won a coveted front page spot on the video sharing website. An American television audience of millions also watched him at work, when the video was broadcast on the prime-time breakfast program Good Morning America yesterday. Today, the hugger was at it again, brandishing his "free hugs" sign in the busy pedestrian thoroughfare, and having quite a few people take him up on his offer. "It's a way to make people smile," Mann said. "For every person who gets a hug, you see five walk past with a smile on their face." But his efforts to spread the love became a little too popular for some people's liking, according to a blurb on the YouTube video, which said: "As this symbol of human hope spread across the city, police and officials ordered the Free Hugs campaign BANNED." Undeterred, Mann collected more than 10,000 signatures on a petition he presented to the City of Sydney council. Demands for a halt to the hugs petered out shortly after, and the end of the clip shows Mann hugging an official. City worker Elly Mitchell, who handed out a few free hugs on her lunch break today, said she was inspired to organise [an] event after seeing the video online. "We're going to hug the city," Ms Mitchell said.
Note: If you haven't seen this powerfully inspiring four-minute video clip, join the many millions who have by watching it on this webpage. The free hugs movement spread rapidly around the world! See this fun video and this inspiring one for great examples. Then check out several other short, deeply inspiring videos.
---
Top Inspiring News Articles
---
Top Inspiring News Articles from Years Past
---