'War is back. People want to stock up': inside Europe's biggest arms fair
Key Excerpts from Article on Website of The Guardian (One of the UK's Leading Newspapers)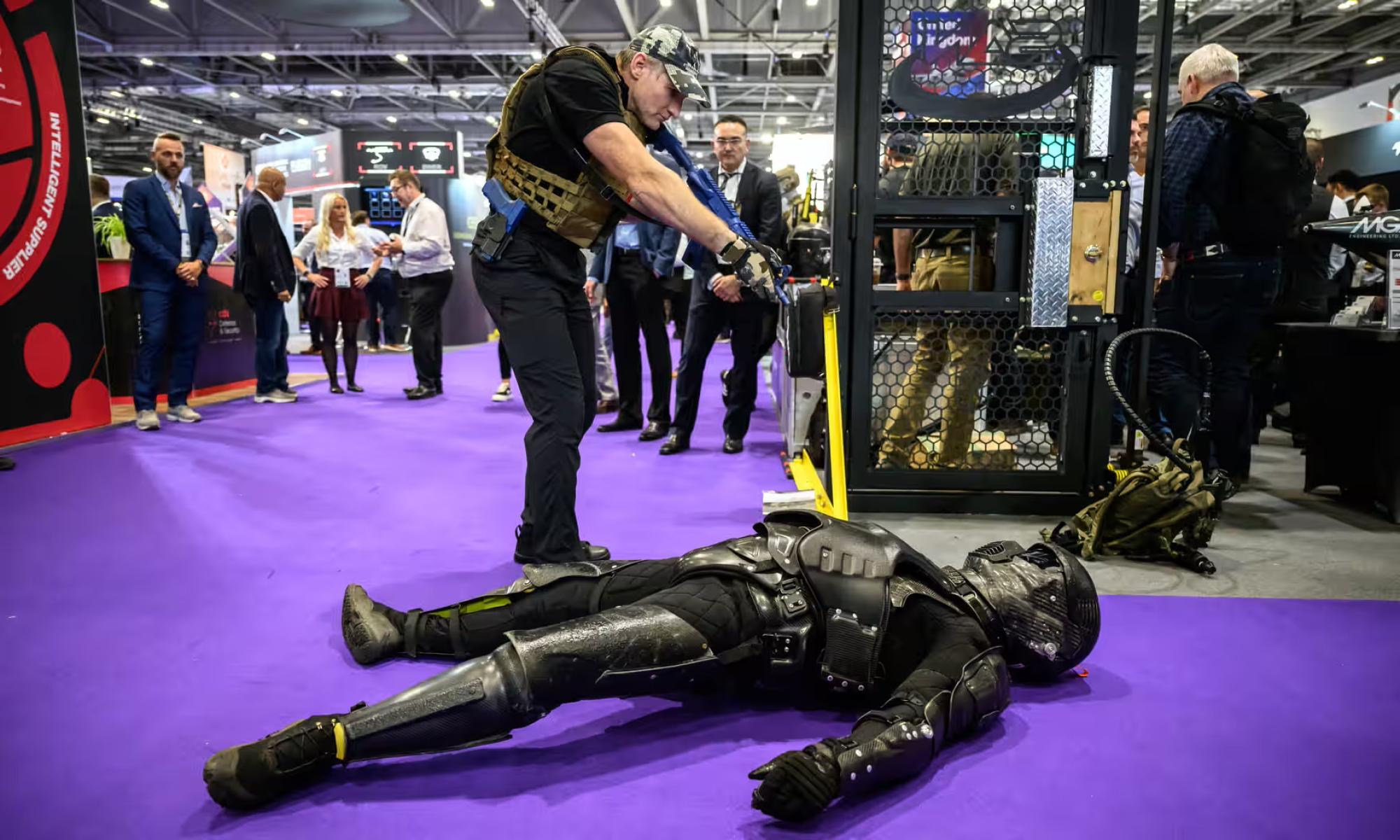 ---
The Guardian (One of the UK's Leading Newspapers), September 20, 2023
Posted: October 3rd, 2023
https://www.theguardian.com/artanddesign/2023/sep/20/war-mil...
Defence and Security Equipment International (DSEI) [is] Europe's biggest arms fair, which takes place every two years in the Excel convention centre in east London. It is a sprawling supermarket of modern warfare, where the world's armies come to buy the latest AI-guided missiles and tanks, inspect giant warships moored in the Royal Docks, and queue to take a turn sitting in the cockpits of fighter jets. Joystick manufacturers jostle with makers of invisibility cloaks, while purveyors of VR simulators compete with those of radar jammers, next to endless ranks of machine guns. Sleek submarines sparkle on spotlit plinths while flocks of missile-carrying drones dangle from the ceiling like menacing mobiles. "This year feels much busier than usual," one bomb salesman tells me, standing by a gleaming rack of cone-shaped warheads, polished like trophies in a glass cabinet. "It seems war is back in a big way. People are looking to stock up." Whereas attendees of this great murderous bazaar may once have felt sheepish, they now proudly march through the entrance gates with their heads held high. Recent events in Ukraine have sharpened minds and opened wallets in relation to government spending on defence. Total global military expenditure reached an all-time high of $2.2tn (£1.8tn) in 2022. Outside the exhibition halls, reality hits. "Please be aware," a polite protester tells visitors, "that many of the countries you are doing business with are on the UK government's human rights priority list."
Note: As one defense executive flat-out told Reuters during the event, "war is good for business." For more along these lines, see concise summaries of deeply revealing news articles on war and military corruption from reliable major media sources.
---
Latest News
---
Key News Articles from Years Past
---