Big Pharma Pushes Low Benefit Drugs, Social Media 'Patient' Influencers, Trauma Doctor Wisdom
Revealing News Articles
April 18, 2023
Dear friends,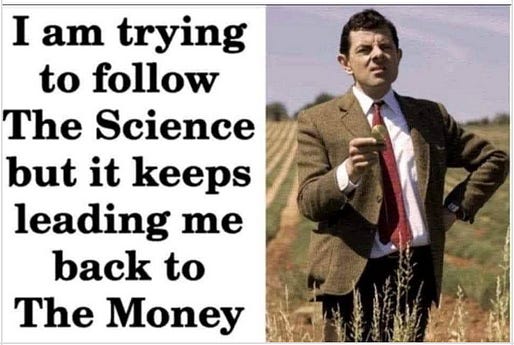 Explore below key excerpts of revealing news articles on Big Pharma pushing low benefit drugs with advertising dollars, deceptive "patient influencers" promoting drugs on social media, the connection between mass shootings and psychiatric medications, and more.
Read also wonderfully inspiring articles on addiction expert and physician Gabor Maté's powerful approach to healing our deepest wounds, the brain's incredible ability to heal itself, a study showing that mindfulness is more effective than cognitive behavioral therapy for treating depression, and more. You can also skip to this section now.
Each excerpt is taken verbatim from the major media website listed at the link provided. If any link fails, see this page. The most important sentences are highlighted. And don't miss the "What you can do" section below the summaries. By educating ourselves and spreading the word, we can and will build a brighter future.
With best wishes for a transformed world,
Mark Bailey and Amber Yang, for PEERS and WantToKnow.info

Special note: Read about how Larry Sanger, co-founder of the world's fifth largest website Wikipedia, is now declaring he no longer trusts the website he created. This came as a result of Wikipedia abandoning its commitment to neutrality when they started hiring PR companies that paid writers and editors to change articles, narrowing open debate on the platform. Elon Musk recently shadow-banned journalist Matt Taibbi on Twitter, a compelling development in light of the "Twitter Files," a series of documents given to Taibbi from Musk indicating significant collusion between social media platforms and government agencies. Read Taibbi's revealing reflection on the matter to get an in-depth look.
Quote of the week: Afflicted by studies with small sample sizes, tiny effects, invalid exploratory analyses, and flagrant conflicts of interest, together with an obsession for pursuing fashionable trends of dubious importance, science has taken a turn towards darkness. Much of the scientific literature, perhaps half, may simply be untrue. ~~ Richard Horton, editor-in-chief of The Lancet, one of the world's best-known medical journal. 
Video of the week: Psychological tactics to change public behavior have concerning implications regardless of where each of us stand in the polarized COVID information war. Watch a revealing analysis that extensively explores how authorities used COVID for psychological warfare in order to achieve certain policy aims.
---
Here's Why Big Pharma Spends More On Ads Pushing Lower Benefit Drugs
February 7, 2023, Forbes
https://www.forbes.com/sites/roberthart/2023/02/07/heres-why-big-pharma...
Big pharma spends more money on advertising for drugs that have lower health benefits for patients, according to a study published in JAMA on Tuesday, shedding new light on the almost uniquely American practice amid fierce debate over whether direct-to-consumer prescription drug ads should be banned. The proportion of advertising spending allocated to direct-to-consumer ads was an average of 14.3 percentage points higher for drugs with a low added benefit compared to those with a high added benefit, according to the peer-reviewed analysis of the 150 best-selling branded prescription drugs. Manufacturers of the top six best-selling drugs spent the bulk of their promotional budgets—more than 90%—targeting consumers directly rather than clinicians for a range of treatment options for conditions including HIV, multiple sclerosis and numerous cancers. The findings could suggest pharma firms are aiming promotional dollars directly towards consumers ... as part of a "strategy to drive patient demand for drugs that clinicians would be less likely to prescribe," said the study's lead author Michael DiStefano. Just two countries in the world allow drug makers to market prescription medications directly to consumers: the U.S. and New Zealand. Most countries prohibit directly advertising prescription medications to the public, something the WHO says influences both people and, indirectly, the medical professionals treating them, making it "harder to make decisions on evidence based medicine."
Note: For more along these lines, see concise summaries of deeply revealing news articles on pharmaceutical corruption and media manipulation from reliable sources.
---
'Patient influencers' paid by Big Pharma to mislead followers: report
March 17, 2023, New York Post
https://nypost.com/2023/03/17/patient-influencers-paid-by-big-pharma...
There's no better way to reach an audience today than through social media — and Big Pharma is well aware of that. The video-sharing platform TikTok, for example, is being flooded with videos of users testifying to wellness through prescription drugs, with hashtags like #adhd (22.3B views), #ozempic (675.1M views) and #wegovy (259.3M views) consistently trending. Now, experts are warning about this misleading tactic by drugmakers, in paying popular social media users to espouse their products under the guise of honest reviews, in a new study published this week in the Journal of Medical Internet Research. These so-called patient influencers, or patient "advocates," are social media influencers who use their platform to promote pharmaceutical medications and/or medical devices. Researchers at the University of Colorado Boulder analyzed 26 recent interviews with patient influencers, who had been diagnosed with conditions such as lupus, fibromyalgia, Parkinson's disease, asthma, HIV, celiac disease, chronic migraines and perimenopause. The majority (69%) had previously collaborated with a pharmaceutical company in some way. The Federal Trade Commission mandates that influencers must disclose if they have been paid by using hashtags, such as by adding #ad or #sponsored to related posts, while the Food and Drug Administration has rules and regulations regarding what can be said on social posts. Nevertheless, many consumers fail to decipher a sponsored ad from genuine peer-to-peer advice.
Note: For more along these lines, see concise summaries of deeply revealing news articles on pharmaceutical corruption and media manipulation from reliable sources.
---
Psychoactive Drugs Often Linked to Mass Shootings
July 16, 2022, Epoch Times
https://www.theepochtimes.com/health/psychoactive-drugs-are-often-behind...
We urgently need a national debate about guns. But we also urgently need a national debate about the epidemic of mood-altering drugs being prescribed to young Americans. Mass shooters in the United States tend to be young, obsessive, male loners and many have been prescribed psychoactive drugs. For example, Eric Harris, one of the two shooters at Columbine High School in Columbine, Colorado, in 1999—which ushered in the current spate of mass shootings—was on the psychotropic drug Luvox. Prescribing information for the antidepressant says, "Close supervision of patients and in particular those at high risk should accompany drug therapy." Jeff Weise, who fatally shot his grandfather, his grandfather's girlfriend, and then seven others at the Red Lake Senior High School in Minnesota in 2005, was on the well-known antidepressant Prozac. Two years later, Cho Seung-Hui, who perpetrated the Virginia Tech mass shooting, also was found to be on psychoactive antidepressants. Jeanne Stolzer, associate professor of child and adolescent development at the University of Nebraska-Kearney, observes that "despite the multitude of international drug regulatory warnings on all classifications of psychiatric medications citing adverse reactions such as suicidal ideation, homicidal ideation, violence, and psychosis, not one local, state, or federal commission has investigated the correlation between the mass shootings in America and the use of psychiatric medications."
Note: Although Epoch Times is often deemed as a controversial media platform, this article raises legitimate questions on an important topic seldom discussed. Read a revealing article that investigates the alarming adverse events associated with common mood-altering medications prescribed for those struggling with mental illness. For more on this concerning trend, consider exploring an in-depth article written by an anonymous doctor who reveals the decades of evidence showing how adverse reactions from psychiatric drugs can manifest as both suicides and homicides.
---
Do COVID-19 vaccine mandates still make sense?
March 14, 2023, Science
https://www.science.org/content/article/do-covid-19-vaccine-mandates...
Visitors to the National Academy of Sciences (NAS) in Washington, D.C. ... must show a guard proof that they have been vaccinated against COVID-19. Such demands were common around the world a year ago. But by now, almost everyone has had natural infections with SARS-CoV-2 or been vaccinated against the coronavirus—sometimes both—and it's become clear that vaccine-induced immunity quickly loses its ability to prevent infection and spread of the latest variants. Some now say the mandates are outdated. The persistent requirements are "baffling to say the least," says Heidi Larson, an anthropologist at the London School of Hygiene & Tropical Medicine and director of the Vaccine Confidence Project. She spoke at a major infectious disease meeting this year that required all attendees to show they had had two doses of a vaccine—with no need for a recent booster. "It's not like it's going to mitigate the spread." Larson and other vaccine acceptance researchers who spoke to Science all emphasize that COVID-19 vaccines clearly prevent severe disease, but they worry maintaining the mandates could undermine future public health efforts. "Having to show these old vaccination proofs or certificates really doesn't make sense, and it could cause harm, because people might lose trust in the competence of the organization," says University of Konstanz psychologist Katrin Schmelz. Compared with Europe and Asia, the United States appears to be holding on to vaccine mandates more tightly.
Note: Many people are questioning the legitimacy of vaccine mandates, regardless of their stance on the efficacy and safety of the COVID vaccines. For more along these lines, see concise summaries of deeply revealing news articles on coronavirus vaccines from reliable major media sources.
---
Immunity acquired from a Covid infection is as protective as vaccination against severe illness and death, study finds
February 16, 2023, NBC News
https://www.nbcnews.com/health/health-news/natural-immunity-protective...
Immunity acquired from a Covid infection provides strong, lasting protection against the most severe outcomes of the illness, according to research published Thursday in The Lancet — protection, experts say, that's on par with what's provided through two doses of an mRNA vaccine. Infection-acquired immunity cut the risk of hospitalization and death from a Covid reinfection by 88% for at least 10 months, the study found. "This is really good news, in the sense that protection against severe disease and death after infection is really quite sustained at 10 months," said the senior study author, Dr. Christopher Murray ... at the University of Washington. The study was the largest meta-analysis to date to look at immunity following infection. It included 65 studies from 19 countries and compared the risk of developing Covid again in people who had recovered from infections to people who hadn't been infected through September. The immunity generated from an infection was found to be "at least as high, if not higher" than that provided by two doses of an mRNA vaccine, the authors wrote. While Murray and Wachter agreed that vaccination remains the safest route, having a past Covid infection should at least be considered in policymaking decisions going forward, such as vaccination requirements, they said. "What Europe did with this evidence made a lot of sense, which is where evidence of past infection was seen as essentially equal to vaccination in terms of requirements to go into events or for employment," Murray said.  
Note: It's worthy of mentioning that much of the media previously dismissed the effectiveness of natural immunity to protect against COVID, with mainstream media platforms blatantly claiming that natural immunity is "not panning out" and "comes at a cost." For more along these lines, see concise summaries of deeply revealing news articles on coronavirus vaccines from reliable major media sources.
---
Japan says 1.5m people are living as recluses after Covid
April 3, 2023, The Guardian (One of the UK's Leading Newspapers)
https://www.theguardian.com/world/2023/apr/03/japan-says-15-million-people...
Almost 1.5 million people of working age in Japan are living as social recluses, according to a government survey, with about a fifth of cases attributed to the pressures unleashed by the Covid-19 pandemic. Large numbers of hikikomori said they had begun retreating from mainstream society due to relationship issues and after losing or leaving their jobs. A significant proportion – 20.6% – said their predicament had been triggered by changes in lifestyle imposed during the pandemic. Hikikomori – classed as people who withdraw from society, spending all or almost all of their time isolated at home – account for 2% of people aged 15-62. The cabinet office surveyed 30,000 people between the ages of 10 and 69. The poll found that just over a fifth of respondents aged 15-39 had been socially isolated. More than 20% said they had experienced problems with interpersonal relationships, while just over 18% cited the pandemic. Among people in the 40-64 age range, 44.5% said their behaviour had been triggered by leaving their jobs, followed by 20.6% who cited the pandemic. Japan did not enforce UK-style lockdowns to help contain the spread of the virus, but people were asked to avoid unnecessary outings ... and some employers and universities encouraged teleworking and remote learning. On streets that would normally have been teeming with people there was a dramatic drop in footfall after restaurants, bars and other sectors of the nighttime economy were asked to stop serving alcohol and close early, or face fines.
Note: For more along these lines, see concise summaries of deeply revealing news articles on the coronavirus and health from reliable major media sources.
---
South Korea to give $490 allowance to reclusive youths to help them leave the house
April 13, 2023, The Guardian (One of the UK's Leading Newspapers)
https://www.theguardian.com/world/2023/apr/13/south-korea-to-give-490-allowance...
South Korea is to offer reclusive youths a monthly living allowance of 650,000 won ($490) in order to encourage them out of their homes, as part of a new measure passed by the Ministry of Gender Equality and Family. The measure also offers education, job and health support. The condition is known as "hikikomori", a Japanese term that roughly translated means, "to pull back". The government wants to try to make it easier for those experiencing it to leave the house to go to school, university or work. Included in the programme ... is a monthly allowance for living expenses for people aged between nine and 24 who are experiencing extreme social withdrawal. It also includes an allowance for cultural experiences for teenagers. About 350,000 people between the ages of 19 and 39 in South Korea are considered lonely or isolated – about 3% of that age group – according to the Korea Institute for Health and Social Affairs. Secluded youth are often from disadvantaged backgrounds and 40% began living reclusively while adolescents, according to a government document outlining the measures. The document includes case studies that describe young people using reclusiveness as a way to cope. One young person describes their depression as a result of domestic violence. "When I was 15 years old, domestic violence made me depressed so much that I began to live in seclusion." Another said that they had become a recluse when their family "went bankrupt".
Note: Lockdown policies significantly deteriorated youth mental health during the lockdown, as seen in a new University of Cambridge paper. This paper is the first longitudinal study to trace the mental health effects of lockdowns and social isolation on younger children. For more along these lines, see concise summaries of deeply revealing news articles on health from reliable major media sources.
---
Key Articles From Independent Media
---
The Most Dangerous International Treaty Ever Proposed
March 29, 2023, Brownstone Institute
https://brownstone.org/articles/most-dangerous-international...
Two international legal agreements [are] currently working their way through the World Health Organisation: a new pandemic treaty, and amendments to the 2005 International Health Regulations, both due to be put before the governing body of the WHO, the World Health Assembly, in May next year. As concerned scholars and jurists have detailed, these agreements threaten to fundamentally reshape the relationship between the WHO, national governments, and individuals. They would hardwire into international law a top-down supranational approach to public health in which the WHO, acting in some cases via the sole discretion of one individual, its Director General (DG), would be empowered to impose sweeping, legally binding directions on member states and their citizens. A global system for digital 'health certificates' for verification of vaccine status or test results would be routinised, and a bio-surveillance network ... would be embedded and expanded. The WHO has fallen largely under the control of private capital and other vested interests. Over 80 percent of the WHO's budget is now 'specified' funding by way of voluntary contributions typically earmarked for specific projects or diseases in a way that the funder specifies. The WHO [is] ordaining itself as the exclusive global controller not just of the identification of pandemics and potential pandemics but of the design and execution of pandemic responses, while also granting itself a vast health surveillance network and a global workforce.
Note: For more along these lines, see concise summaries of deeply revealing news articles on government corruption and health from reliable major media sources.
---
Scientific Paper on Children, Wireless Technology, and Health Effects by Renowned Experts in Environmental Health
March 23, 2023, Global Research
https://www.globalresearch.ca/scientific-paper-children-wireless-technology...
A state-of-the-art assessment on the scientific evidence of wireless radiation impacts on children's health published in the journal Current Problems in Pediatric and Adolescent Health Care concludes that the medical community has a critical role to play to prevent harm from wireless radiation. Written by distinguished experts in medicine, epidemiology, toxicology, physics, biochemical engineering and public health ... the paper references numerous studies that associate wireless exposure to effects including oxidative stress, DNA damage, cardiomyopathy, carcinogenicity, sperm damage, memory damage and neurological effects. Pregnancy, infancy and childhood are periods of critical susceptibility, especially for the brain, which is rapidly developing. "Current government safety limits are outdated and do not reflect the latest science nor the way children use wireless technology today," stated Linda Birnbaum Ph.D, former Director of the National Toxicology Program. Theodora Scarato, Executive Director of Environmental Health Trust, highlighted the international policies to reduce children's exposure, such as France and Belgium's bans on the sale of cell phones designed for young children and the numerous countries that have restrictions on Wi-Fi exposure in classrooms. She stated that, "US government limits allow radiation emissions 10 to 100 times higher than numerous countries such as Switzerland, Italy, China, Russia and India."
Note: For more along these lines, see concise summaries of deeply revealing news articles on wireless technology dangers from reliable major media sources.
---
Key Articles From Years Past
---
The Pesticide Industry's Playbook for Poisoning the Earth
January 18, 2020, The Intercept
https://theintercept.com/2020/01/18/bees-insecticides-pesticides-neonicotinoids...
In 2013, the European Union called for a temporary suspension of the most commonly used neonicotinoid-based products on flowering plants, citing the danger posed to bees — an effort that resulted in a permanent ban in 2018. In the U.S., however, industry dug in, seeking not only to discredit the research but to cast pesticide companies as a solution to the problem. Lobbying documents and emails ... show a sophisticated effort over the last decade by the pesticide industry to obstruct any effort to restrict the use of neonicotinoids. Bayer and Syngenta, the largest manufacturers of neonics, and Monsanto, one of the leading producers of seeds pretreated with neonics, cultivated ties with prominent academics ... and other scientists who had once called for a greater focus on the threat posed by pesticides. A study published in peer-reviewed journal PLOS One found that the American landscape has become 48 times more toxic to insects since the 1990s, a shift largely fueled by the rising application of neonics. "Generally, we see the U.S. waiting longer than the EU to take action on a variety of pesticides and other chemicals," said [Willa] Childress ... with Pesticide Action Network North America. Part of the divergence, Childress continued, stems from a regulatory system in the U.S. that assumes chemical products are generally safe until proven hazardous. In contrast, the EU tends to use the "precautionary principle," removing products that may cause harm.
Note: For more along these lines, see concise summaries of deeply revealing news articles on corruption in science and in the food system from reliable major media sources.
---
'Bonesmen' for president
March 10. 2004, NBC News
http://www.nbcnews.com/id/4500423/ns/msnbc-countdown_with_keith_olbermann/t/b...
Pres. Bush and John Kerry were both members of the secret organization. 'Skull and Bones' dates to 1832. It was in fact a reaction to a secret society, the Masons. Founder William Huntington Russell thought of his little enclave as sort of anti-Masons and as a home for the wealthy and the powerful ... who would do anything for another Bonesman. Each year, 15 young undergraduate seniors are tapped for membership. Members of 'Skull and Bones' gather on High Street in the Yale campus at the tomb. New members, the neophytes, are expected to do things like lie in coffins, wrestle in mud, kiss a skull, and confess their sexual histories in front of the group to bond themselves together. Once you're in, you're in: 'Skull and Bones' is for life. There are a lot of [famous] Bonesmen ... Henry Luce, who created "TIME" magazine; Harold Stanley, founder of Morgan Stanley; William F. Buckley; Averell Harriman, long-time governor of New York. And then there are the presidents: William Howard Taft, whose father, Alphonso, had helped found the group; George Herbert Walker Bush, whose father, Prescott, was a Bonesman and a senator; the current President Bush. [And there's] John Kerry, Bonesman class of '66. His wife Teresa Kerry's first husband, John Heinz ... was 'Skull and Bones.' Both Bush and Kerry refused to answer 'Meet the Press' host Tim Russert when asked about the organization. Alexandra Robbins, author of "Secrets of the Tombs" [said] "The sole purpose of Skull and Bones is to get members into positions of power and then to have those members hire other members to prominent positions, which is something that President Bush has done."
Note: For a highly revealing, four-minute CNN News clip on Skull and Bones, click here. Many have claimed that secret societies have not had much influence on world politics. This article and video raises many serious questions about this. For those interested in exploring reliable information covering the big picture of how and why these secret societies are using government-sponsored mind control programs to achieve their agenda, click here. And for other revealing media news articles on powerful secret societies, click here.
---
Inspiring Articles
---
The trauma doctor: Gabor Maté on happiness, hope and how to heal our deepest wounds
April 12, 2023, The Guardian (One of the UK's Leading Newspapers)
https://www.theguardian.com/lifeandstyle/2023/apr/12/the-trauma-doctor-gabor...
[Gabor] Maté was born in January 1944; in May of that year, the deportation of Hungary's Jews to Auschwitz began. By the end of the Holocaust, 565,000 Hungarian Jews had been murdered, Maté's maternal grandparents among them. When he was 11 months old, his mother sent him with a stranger to be cared for by his aunt. Maté says trauma, from the Greek for "wound", "is not what happens to you; it is what happens inside you as a result of what happens to you. It is not the blow on the head, but the concussion I get." That, he says, is the good news. "If my trauma was that my mother gave me to a stranger ... that will never not have happened. But if the wound was that I decided as a result that I wasn't worthwhile as a human being, I wasn't lovable, that's a wound that can heal at any time." There can be two types of wound, he says. "There's the capital-T traumatic events," which include things like being abused as a child and the loss of a parent. Then there are "small-T traumas". "You can wound a kid not only by doing bad things to them, but by also not meeting their needs," he says. Maté has a heightened level of compassion. For him, the real villain is our culture. Many of the plights of modern society are, he says, natural responses to an unhealthy culture. Take addiction. His view is that there is no such thing as an "addictive personality". Nor is addiction a disease. His mantra is: "Don't ask why the addiction, ask why the pain. Addiction is a normal response to trauma."
Note: The Wisdom of Trauma is a powerful film that travels alongside Dr. Gabor Maté in his quest to discover the connection between illness, addiction, trauma, and society. Deeply touching and captivating in its diverse portrayal of real human stories, the film also provides a new vision of a trauma-informed society that seeks to "understand the sources from which troubling behaviors and diseases spring in the wounded human soul." Anyone can watch this donation-optional film at the above link.
---
What Everyone Should Know About the Brain's Ability to Heal
October 25, 2022, New York Times
https://www.nytimes.com/2022/10/25/opinion/brain-stroke-recovery-fetterman.html
Our brains are made up of billions of cells that work together to create our every ability. Wipe out those cells, through a stroke or other brain trauma, and you may no longer be able to read, but you might still be able to speak, sing or write. It's all about where the brain is damaged — which systems of cells are traumatized and which are not. The three-pound mass of neurological tissue that we call the brain has the power not only to create every ability we have but also to manifest our perception of reality. Our brains have a two-pronged defense mechanism that kicks in when brain trauma occurs. Not only are we able to grow some new neurons — a process called neurogenesis — especially in the sites where physical trauma has occurred, our brain cells are capable of neuroplasticity, which means they can rearrange which other neurons they are in communication with. That's why, whenever I meet someone who has experienced a brain trauma of any sort, I don't focus on what abilities that person has lost, but rather I marvel at what insights that person might have gained because of the experience. Few things have greater impact on how people choose to live their lives than neurological trauma or near-death experiences. And when we find ourselves to be neurologically impaired, we become vulnerable and need others to support us rather than criticize or judge us. I became a much more compassionate and empathetic person following my stroke and recovery. Perhaps I am not the only one.
Note: The above was written by Jill Bolte Taylor, a neuroscientist and the author of "My Stroke of Insight: A Brain Scientist's Personal Journey." Explore a treasure trove of concise summaries of incredibly inspiring news articles which will inspire you to make a difference.
---
Mindfulness better than CBT for treating depression, study finds
March 27, 2023, The Guardian (One of the UK's Leading Newspapers)
https://www.theguardian.com/society/2023/mar/27/mindfulness-better-than-cbt...
Practising mindfulness is much better than taking part in talking therapies at helping people recover from depression, a British study has found. People who used a mindfulness self-help book for eight weeks and had six sessions with a counsellor experienced a 17.5% greater improvement in recovery from depressive symptoms than those who underwent cognitive behavioural therapy (CBT) while being supported by a mental health practitioner. Their results have been published in JAMA Psychiatry. The NHS says mindfulness involves people paying attention to "what is going on inside and outside ourselves, moment by moment" and "the sights, sounds, smells and tastes of the present moment" as well as being aware of their thoughts and feelings as they happen. People using mindfulness in the LIGHTMind 2 trial spent eight weeks following the advice in The Mindful Way Workbook, which helps them build up their mindfulness skills by guiding them on what they should do every day in order to be aware of their thoughts, feelings and physical sensations in a non-judgmental way. Doing that helps people address some of the behaviours that can maintain feelings of depression. They also had six one-to-one half-hour "support sessions" on the telephone with a therapist discussing their progress, experience of practising mindfulness and asking questions. Mindfulness-based treatment is also a cheaper way of tackling depression because people using it needed on average £526 less of subsequent treatment.
Note: Explore a treasure trove of concise summaries of incredibly inspiring news articles which will inspire you to make a difference.
---
Kailash Satyarthi plans to end child labor in his lifetime
February 21, 2019, CNN News
https://www.cnn.com/2019/02/19/world/kailash-satyarthi-child-labor/index.html
Since 1980, [former engineer Kailash Satyarthi] has spent his life campaigning against child labor, ultimately winning the Nobel Peace Prize ... in 2014. Satyarthi launched the 100 Million campaign in late 2016. The initiative ... seeks to engage 100 million young people around the world to speak out for the world's more than 100 million child workers. The International Labor Organization charts the total of child laborers globally at 152 million, with 73 million of those in hazardous labor conditions. 10 million children are victims of abject slavery. The number of children working has fallen sharply in the last two decades, from as many as 246 million in the year 2000. With more global awareness and effort, it could fall further. Satyarthi's organization and Participant Media collaborated on a letter-writing campaign, in which ... people wrote letters to the top 100 US retailers asking them to take steps to ensure the products they sell are not connected with child labor. So far more than a million letters have been sent. "The world is capable to end child labor," Satyarthi said. "We have the technology. We have the resources. We have laws and international treaties. We have everything. The only thing is that we have to feel compassion for others. "My struggle is for the globalization of compassion." Satyarthi's ambitions have long been focused on global policy, but the root of it all still remains back home in India. The original organization he founded [has] directly rescued more than 88,000 children.
Note: Why have so few ever heard of this most amazing, courageous man who has risked his life countless times to rescue tens of thousands of children from slave labor? After surviving numerous beatings and the murder of two of his colleagues, Satyarthi won the Nobel Peace Prize in 2014 for creating a global network focused on fighting for the rights of over 100 million child workers worldwide and rescuing the many millions still held as slave labor in almost every country in the world. Don't miss the moving documentary on Satyarthi and his work titled "The Price of Free."
---
We're $9,300 in the red for the month.
Kindly support this important work. Donate here.
What you can do:
Contact your media and political representatives to inform them of the important news articles above. Urge them to study and bring publicity to this vital news. Invite them to read these articles and explore the links included.
Explore an index to the most revealing major media news articles sorted by topic.
Learn more about how some of the most vital news is censored by corporate major media ownership in this powerful lesson from the free Insight Course.
Read excerpts of the 20 most revealing major media news articles ever reported.
Spread this news to your friends and colleagues, and bookmark this article on key news websites using the "Share" icon on this page, so that we can fill the role at which the major media is sadly failing. Together, we can make a difference.
Finding Balance: WantToKnow.info Inspiration Center
WantToKnow.info believes it is important to balance disturbing cover-up information with inspirational writings which call us to be all that we can be and to work together for positive change. For an abundance of uplifting material, please visit our Inspiration Center.
See our exceptional archive of revealing news articles.
Explore the mind and heart expanding websites managed by the nonprofit PEERS network:
Subscribe here to the WantToKnow.info email list (two messages a week)