A very personal note from PEERS founder Fred Burks
Dear friends,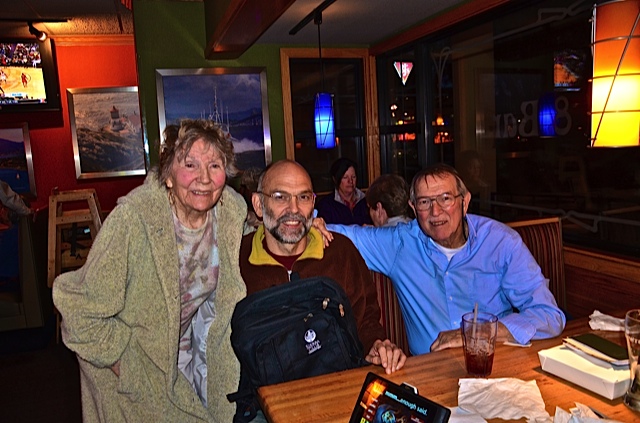 So sad... Both of my parents are 89 years old. I just spent several days with them over Christmas. Since the lockdown last March, their physical and mental states have taken a serious turn for the worse.
During my visit, my dad fell while walking the dog alone and banged up his face and got a bad cut on his arm. He said he couldn't get up for about 20 minutes. Thankfully he was eventually able to get back to the house where my sister and I cleaned him up and bandaged his bleeding arm.
Before the lockdown, the highlight of my very outgoing father's life was going to the YMCA every day for a few hours where he would swim and soak in the hot tub. He especially enjoyed socializing with his friends there. On Sundays, he loved going to church to connect with his warm community of friends there. At that time his memory was already pretty bad and he was showing signs of mild dementia.
Since the lockdown, my dad has had no one to connect with and has gotten very little exercise. He doesn't know how to use Zoom and so literally has had no contact with any of his friends at church or the YMCA. His dementia is now much worse, to the point where sometimes we can't understand what he's saying. And he spends most of his day glued to the TV. Out of fear for the virus, he wears a mask even to walk 20 feet to take the garbage out to the side of the house with no one in sight. Yet it is not the virus, but the lockdown policies that have stripped him of his friends, his church community, his exercise, and much of his quality of life.
My mother is much more introverted. Before the lockdown, her highlight was taking a two-mile round trip walk with her beloved dog Pompie to Starbucks and back. She also enjoyed connecting with her Bible study group once a week. When the lockdown hit and Starbucks closed, she cut her walk back considerably and can no longer attend her Bible study. She now has hardly any contact with the outside world. My father tells me he is concerned because in the last couple months she hasn't gotten out of bed much and she's had a very bad temper, which is hard on him.
I was glad that for Christmas my sister was willing to take the risk of flying to my parents' house from Denver, knowing that they may not be with us much longer. She and I were very sad to see how much both of our parents have deteriorated since the lockdown. With my dad's markedly increased dementia and my mom hardly getting out of bed, we fear that very soon they will no longer be able to take care of themselves and they may not last another year.
The lockdown has had a profound effect on this waning year of my parents' life. It's very clear to me that though a part of their decline physically, emotionally, mentally, and spiritually is due to aging, the main reason for the marked decline is that they both have lost all meaningful connection with the outside world due to the intense lockdown measures. They have lost almost all quality of life and on some level seem to be giving up on life, especially my mom.
My 92-year-old aunt also couldn't join us for Christmas for the first time ever, as the convent where she lives is not even allowing any of the nuns outside of their rooms, except to walk in the halls a couple times a day for exercise. So sad...
And in how many places is this kind of scenario being played out around the world? I would guess hundreds of millions of elderly people have lost much of their quality of life due to the global lockdown. And when our elderly get sick and go to the hospital, they can't even have visits from their family. Those who die, die alone with very little comfort or support from their loved ones.
Is this really what we want for our elder generation? With depression and suicide rates for all ages way up since the lockdown, is this really what we want for our society? Are the lockdowns doing more damage socially and spiritually to all of us than the virus itself?
I think we all will be relieved to say good-bye to 2020. The question is how much longer will this lockdown be drawn out? I wish you all a beautiful passage into 2021. May we find much love and meaning in this new year.
With very best wishes for a transformed world,
Fred Burks for the PEERS empowerment websites
Note: Below is a concerning NPR article showing how the lockdown is seriously endangering the lives of our youth. And did you know that without any lockdown, Sweden is doing better in per capita number of COVID-19 deaths than 22 other countries? Belgium currently has the highest number of deaths per million in the world. Italy is #3, Spain is #7, the UK is #9, and the US is #10, while Sweden is #23 as you can see at this link. Could it be that the lockdowns don't make a big difference in the damage done by the virus, but have a huge negative impact on global health and people like my parents?
The Pandemic Has Researchers Worried About Teen Suicide
NPR, Sept. 10, 2020
https://www.npr.org/2020/09/10/911117577/the-pandemic-has-researchers-worried...
"Teen and youth anxiety and depression are getting worse since COVID lockdowns began in March. Many experts say they fear a corresponding increase in youth suicide. At the end of June, the Centers for Disease Control and Prevention surveyed Americans on their mental health. They found symptoms of anxiety and depression were up sharply across the board between March and June, compared with the same time the previous year. Almost 11 percent of all respondents to that survey said they had "seriously considered" suicide in the past 30 days. And young people seemed to be the hardest-hit of any group. For those ages 18 to 24, the number was 1 in 4 – more than twice as high."
Note from Fred: That's 25% of those aged 18 to 24 who have "seriously considered" taking their lives. You can find lots more in this *Psychology Today* article titled "America Is Facing a Teen Suicide Pandemic." And according to this USA Today article, millions went hungry on Thanksgiving as a result of lockdown policies. Are these policies causing more long-term damage than the virus itself?
What you can do:
Explore our excellent Coronavirus Information Center filled with reliable resources and links to key revealing health videos, essays, news articles, and much more.
Learn little know facts about the coronavirus vaccines that are important considerations for any who are considering getting vaccinated.
Explore inspiring ideas on how we can work together to create a new paradigm.
Spread this news to your friends and colleagues, and bookmark this article on key social networking websites using the "Share" icon on this page, so that we can fill the role at which the major media is sadly failing. Together, we can make a difference.
See the exceptional collection of resources in our Inspiration Center
Kindly support this work: Donate here
Explore the mind and heart expanding websites managed by the nonprofit PEERS network:
Subscribe here to one of the two popular PEERS email lists