Inspiring Disabled People News Articles
Amazing Disabled People in the News
Dear friends,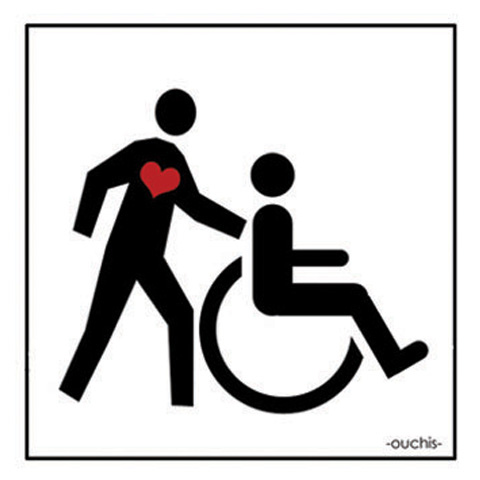 For those who have no disabilities, it's hard to comprehend the challenges faced by the disabled people described in the news articles below. Yet these extraordinary individuals have inspired millions, both disabled and normally abled, to face their challenges with courage and commitment so that we can all shine in our lives.
Take a moment as you read these inspiring news article summaries to drink in the deep wisdom shared.
With warm wishes for an inspired world,
Fred Burks for the PEERS empowerment websites
Important Note: This compilation is taken from our treasure trove of concise summaries of compelling news articles on several dozen engaging topics.
If you had asked me 20 years ago where I would be, I never would have imagined I would be a physician working at UCLA Health, one of the best medical centers in the country. For over 25 years, my physical disability threatened to define who I was and what others thought I could become. I contracted meningococcal disease at 8 years of age. The infection overwhelmed my body's defenses, and I became a triple amputee. The disease left me with just enough to survive and carry on: two full fingers of the left hand, the thumb and ring finger. The first few years were physically and emotionally grueling; I was in and out of the hospital for surgical procedures to make my lower limbs fit better into prosthetic legs. I couldn't walk for nearly three years. I grew so quickly, my prosthetic legs could not keep up. My father would give me piggyback rides from the car to our house. My mother, who became blind as a teen, learned how to help me dress and put on my prosthetic legs every morning for school. My younger brother, Tarring, would help bring things to me since my mobility was limited. And my older sister, Nellie, was and is my inspiration and role model. I have been extremely lucky to have a strong and resilient family. I was lucky to be in a place where I had great medical care and where I had a community of friends and schools that supported my recovery and believed in my ability to succeed despite my disability. But luck is only part of my success; it takes courage, determination, honesty and integrity to pursue your dreams.
Note: Dr. Kellie Lim, author of this article received her medical training from the David Geffen School of Medicine at the University of California, Los Angeles. After getting her medical degree, she completed her residency in pediatrics before pursuing fellowship training in allergy & immunology and pharmacology. Today, she works as an allergist-immunologist at UCLA Health.
Scaling Everest requires the enthusiasm and boosterism of a physical-education teacher combined with the survival instinct of a Green Beret. You have to want that summit. Erik Weihenmayer, 33, wasn't just another yuppie trekker. Blind since he was 13 ... he began attacking mountains in his early 20s. For Erik ... excelling as an athlete was the result of accepting his disability rather than denying it." Climbing with Erik isn't that different from climbing with a sighted mountaineer. You wear a bell on your pack, and he follows the sound ... using his custom-made climbing poles to feel his way along the trail. His climbing partners shout out helpful descriptions: "Death fall 2 ft. to your right!" Almost 90% of Everest climbers fail to reach the summit. Many – at least 165 since 1953 – never come home at all. When Erik and the team began the final ascent from Camp 4 ... they had been on the mountain for two months ... getting used to the altitude and socking away enough equipment [before they made the final, successful] summit push. "He was the heart and soul of our team," says Eric Alexander. "The guy's spirit won't let you quit." It could be called the most successful Everest expedition ever, and not just because of Erik's participation. A record 19 climbers from the N.F.B. team summited, including the oldest man ever to climb Everest – 64-year-old Sherman Bull. Perhaps the point is really that there is no way to put what Erik has done in perspective because no one has ever done anything like it. It is a unique achievement, one that in the truest sense pushes the limits of what man is capable of.
Note: Don't miss the entire inspiring blind to failure story at the link above. And check out an awesome video highlighting many of Erik's wild adventures.
Carly Fleischmann has severe autism and is unable to speak a word. But ... this 13-year-old has made a remarkable breakthrough. Two years ago, working with pictures and symbols on a computer keyboard, she started typing and spelling out words. The computer became her voice. "All of a sudden these words started to pour out of her, and it was an exciting moment because we didn't realize she had all these words," said speech pathologist Barbara Nash. Then Carly began opening up, describing what it was like to have autism. Carly writes about her frustrations with her siblings, how she understands their jokes and asks when can she go on a date. "We were stunned," Carly's father Arthur Fleischmann said. "We realized inside was an articulate, intelligent, emotive person that we had never met. This ... opened up a whole new way of looking at her." This is what Carly wants people to know about autism. "It is hard to be autistic because no one understands me. People look at me and assume I am dumb because I can't talk or I act differently than them. I think people get scared with things that look or seem different than them." Carly had another message for people who don't understand autism. "Autism is hard because you want to act one way, but you can't always do that. It's sad that sometimes people don't know that sometimes I can't stop myself and they get mad at me. If I could tell people one thing about autism it would be that I don't want to be this way. But I am, so don't be mad. Be understanding."
Note: Read an excellent follow-up article in which Carly answers readers questions about autism. For more, see this webpage.
Seventeen-year-old Gabe Adams was born without arms and legs and suffers from a rare disease called hanhart syndrome, but that doesn't stop him from dancing. After spending most of his life in a wheelchair, he decided to join the dance team at Davis High School. During halftime at a basketball game Friday night, he performed in front of the whole school. Cheers rang out as Gabe put the word disability to shame. "I wanted to prove to myself and to others that there's more to myself than just a kid in a wheelchair," Adams said. With practices three days a week, which last for more than three hours, dance team is no easy commitment. However, teammate Alexis Delahunty says Gabe makes it seem easy. "I can't even imagine doing this without my arms and legs. It's so inspiring. He's just amazing," Delahunty said. His dance teacher, Kim King, says Gabe has brought so much joy to the team and has pushed them all to work harder. "When they see him, they don't realize how hard it is to get dressed, how hard it is to get in and out of his chair, but Gabe does everything by himself," King said. Gabe's father, Ron Adams, said Gabe is always pushing himself and taking each challenge in stride. "I don't think everyone understands what it takes, the muscle coordination and development to balance when he doesn't have limbs," Ron Adams said. He may not realize it, but Gabe is constantly inspiring the people around him.
Note: Note: Don't miss the amazing video at the link above. For more on this most impressive teenager, see this story. Explore a treasure trove of concise summaries of incredibly inspiring news articles on other topics which will inspire you to make a difference.
Most children want to dress up for Halloween, but for those confined to wheelchairs, it isn't always that simple. Ryan Weimer understands that concept better than most. When his oldest son, Keaton, was 3 years old, he told his dad he wanted to be a pirate for Halloween. Instead of simply dressing him up, Weimer spent months building Keaton - who lives with muscular dystrophy - a pirate ship made of wood, tablecloth sails and specially-crafted cannons, all fitted to his wheelchair. Keaton was ecstatic - and his dad never forgot the feeling. "When you know that you have few memories to make with your kids, you want to make priceless ones," Weimer told NBC News, "and epic ones." His second son, Bryce, also lives with muscular dystrophy. Over the years, their wheelchair costumes have gotten more elaborate and attracted more attention. And this year, the Weimer family project became a hugely successful non-profit, called Magic Wheelchair. Volunteers from around the country donated their time, talents and resources to create dream costumes for eight lucky children — six from Weimer's home state of Oregon and two from Georgia. "When we have challenges and trials and hard times, those are the things that define us," Weimer said. "It doesn't' matter your circumstances, you can still make beautiful things ... and it's great to see other people get behind that."
Note: Don't miss this very touching video on Magic Wheelchairs.
In 1978, 5-year-old Frank "Bopsy" Salazar was diagnosed with leukemia. A woman named Linda Pauling ... had lost her 7-year-old son, Chris, to leukemia that spring. But before Chris passed, the Arizona Department of Public Safety had fulfilled the little boy's dream of becoming a police officer. DPS officers Jim Eaves and Frank Shankwitz had met Chris with a patrol car and motorcycle and made him the only honorary Arizona Highway Patrol Officer in the department's history. The incredible effort inspired Pauling and Shankwitz to start the Make-A-Wish Foundation. "[Pauling] told me that instead of letting the kids just feel sorry for themselves, they wanted to grant wishes, to do something every kid would benefit from, to fulfill their dream while they're still a part of this world," Trujillo said. Shankwitz took over from there, and he went to visit Bopsy to find out more about the boy's dreams. After learning that he'd be granted a wish, the 7-year-old mulled it over. "I want to ride in a hot air balloon," he told Shankwitz. Then he thought about it some more. "No, I want to go to Disneyland." He paused again. "No, I want to be a fireman." But Shankwitz didn't make him pick. All of Bopsy's wishes would be granted. He got his balloon ride and his trip to Disneyland. Fireman Bob - whose real name is Bob Walp - did more than was asked of him to help the sick boy. "We didn't want to just give him a tour," Walp [recalled]. "We decided to give him a badge and a jacket. We let him use the hose. We took him in the truck."
Note: For more on this inspiring story, see this webpage.
When she was in high school, Lizzie Velasquez was dubbed "The World's Ugliest Woman" in an 8-second-long YouTube video. Born with a medical condition so rare that just two other people in the world are thought to have it, Velasquez has no adipose tissue and cannot create muscle, store energy, or gain weight. She has zero percent body fat and weighs just 60 pounds. In the comments on YouTube, viewers called her "it" and "monster" and encouraged her to kill herself. Instead, Velasquez set four goals: To become a motivational speaker, to publish a book, to graduate college, and to build a family and a career for herself. Now 23 years old, she's been a motivational speaker for seven years and has given more than 200 workshops on embracing uniqueness, dealing with bullies, and overcoming obstacles. She's a senior majoring in Communications at Texas State University in San Marcos, where she lives with her best friend. Her first book, Lizzie Beautiful, came out in 2010 and her second, Be Beautiful, Be You, was published earlier this month. She's even reclaimed YouTube, video blogging about everything from bullying to hair-styling tips to staying positive. Of course, the horrible comments left on that old YouTube video stung. "I'm human, and of course these things are going to hurt," she said. "Their judgments of me isn't who I am, and I'm not going to let these things define me. I didn't sink down to their level," she said in a follow-up video on YouTube last year. "Instead, I got my revenge through my accomplishments and determination. In the battle between the 'World's Ugliest Woman' video vs. me, I think I won."
Note: Though looking at this woman can be disturbing for some, consider that you can see beneath the surface to the beauty within. Watch Lizzie share some of her wisdom in a popular TEDx Talk at this link.
When I met 18-year old Patrick Henry Hughes, I knew he was musically talented. I had been told so, had read that he was very able for someone his age and who had been blind and crippled since birth. Patrick's eyes are not functional; his body and legs are stunted. He is in a wheelchair. When we first shook hands, his fingers seemed entirely too thick to be nimble. So when he offered to play the piano for me and his father rolled his wheelchair up to the baby grand, I confess that I thought to myself, "Well, this will be sweet. He has overcome so much. How nice that he can play piano." But then Patrick put his hands to the keyboard, and his fingers began to race across it -- the entire span of it, his fingers moving up and back and over and across the keys so quickly and intricately that my fully-functional eyesight couldn't keep up with them. I was stunned. The music his hands drew from that piano was so lovely and lyrical and haunting, so rich and complex and beyond anything I had imagined he would play that there was nothing I could say. All I could do was listen. "God made me blind and didn't give me the ability to walk. I mean, big deal." Patrick said, smiling. "He gave me the talent to play piano and trumpet and all that good stuff." This is Patrick's philosophy in life, and he wants people to know it. "I'm the kind of person that's always going to fight till I win," he said. Patrick also attends the University of Louisville and plays trumpet in the marching band. The band director suggested it, and Patrick and his father, Patrick John Hughes, who have faced tougher challenges together, decided "Why not?" "Don't tell us we can't do something," Patrick's father added, with a chuckle. He looks at Patrick with a mixture of love and loyalty and admiration, something not always seen in the eyes of a father when he gazes at his son. "I've told him before. He's my hero."
Note: For amazingly inspiring video clips of this unusual young musician on both Oprah and ESPN, click here and here.
Glenn Cunningham, a former world-record holder in the mile run who in 1979 was named the greatest track performer in the history of Madison Square Garden, died yesterday. He was 78 years old. That Mr. Cunningham could win 21 of 31 mile races on the indoor track at the Garden during his prime in the 1930's was impressive. More significantly, he did it after suffering life-threatening burns on both legs as a 7-year-old when a stove in a school classroom in Everetts, Kan., exploded, killing his older brother Floyd. After being told there was a strong possibility he would never walk again, he spent seven months in bed, and then received daily massages from his mother, who kneaded his damaged muscles and sped his way to walking, and then running. In high school, he played baseball and football and boxed and wrestled. At 13, he entered his first high school mile race and won easily. Using running as therapy for the burn injuries, he found that middle distances suited him. At a sophomore at the University of Kansas, Mr. Cunningham set an American record for the mile with a time of 4 minutes 11.1 seconds. He was selected as a member of the United States team for the 1932 Olympic Games in Los Angeles, and finished fourth in the 1,500-meter run. In 1933 he won the Sullivan Award as the nation's top amateur athlete. In his competitions at Madison Square Garden, Mr. Cunningham set six world records in the mile and the 1,500 meters and another at 1,000 yards.
Note: For more on the incredibly inspiring story of this great man, read this engaging article.
Kanya Sesser, 23, skateboards, models lingerie and surfs – and she does it all without lower limbs. Sesser, who was born without legs, was adopted from an orphanage in Thailand before moving to Portland, Oregon, with her new family. Now, she earns more than $1,000 a day working as a model. "I enjoy making money from it and I love showing people what beauty can look like," Sesser told the Daily News. "These images show my strength." The 23-year-old, who uses a skateboard instead of a wheelchair, began modeling for sports brands when she was 15. The Huffington Post UK reports that the Los Angeles-based model has reportedly posed for brands like Billabong, Rip Curl Girl and Nike. "I was mainly doing athletics shoots then as I got older I got into lingerie modeling," Sesser told the Daily News. "It's something fun and it shows my story – I'm different and that is sexy, I don't need legs to feel sexy." Now, the model hopes to compete in the 2018 Winter Paralympics in Pyeongchang, South Korea, as a mono-skier.
Note: Don't miss this inspiring seven-minute video of Kanya's courage and fascinating life.
Jessica Cox was born without arms as a result of a rare birth defect. That has not stopped her from living her life to the fullest. In fact, Ms Cox has experienced and achieved more than most people do in a lifetime. She can drive a car, fly a plane and play piano - all with her feet. In 2012 she married Patrick, her former Taekwondo instructor (she has two black belts). They live in Tucson, Arizona. Ms Cox, 30, travels around the world as a motivational speaker, using her own life as an example of what one can achieve if one wants it enough. This month she visits Ethiopia to help promote disability rights.
Note: Don't miss the inspiring video on the BBC webpage. And for another incredibly inspiring man born without arms or feet, learn about Nick Vujicic at this link.
The newest resident of "Sesame Street" has orange hair and a fondness for her toy rabbit. She also has autism. Julia has been a part of the "Sesame Street" family via its storybooks and was so popular that the decision was made to add the character to the TV series. "I think the big discussion right at the start was, 'How do we do this? How do we talk about autism?,'" one of the show's writers, Christine Ferraro, told "60 Minutes" correspondent Lesley Stahl. Over the almost five decades "Sesame Street" has been on the air, it has established a reputation for inclusion with its characters. Joan Ganz Cooney, one of the founders of the Children's Television Workshop which developed "Sesame Street," said it has also not been afraid to deal with real life issues. Julia's debut episode will deal with what autism can look like. The brain disorder can make it difficult for people with autism to communicate with and relate to others. The character of Big Bird talked to Stahl about his first interaction with Julia in which she ignored him. "I thought that maybe she didn't like me," he said. "Yeah, but you know, we had to explain to Big Bird that Julia likes Big Bird," the Elmo character added. "It's just that Julia has autism. So sometimes it takes her a little longer to do things." Ferraro hopes that along with educating viewers about autism the new character will settle in as a part of the neighborhood. "I would love her to be not Julia, the kid on Sesame Street who has autism," the writer said. "I would like her to be just Julia."
Note: Explore a treasure trove of concise summaries of incredibly inspiring news articles on other topics which will inspire you to make a difference.
Andrew Short lives with spastic cerebral palsy, which he contracted during birth. Cerebral palsy is a disorder that effects muscle tone, movement and motor skills, but despite impaired speech Andrew's disability doesn't impair his mind, and he learned to read early. "I speak three languages," said Andy. "English, German, and spastic. Spastic is my mother tongue." Andrew is currently completing a Masters Degree in Disability Studies, but his most impressive achievement has been walking the Kokoda Trail, which he describes as "the toughest physical challenge of [his] life". In Andy's late twenties, his motor function appeared to begin deteriorating. "We were told to accept that that's what it would be," said [Andrew's father] David. Instead, David and Andrew began researching the emerging field of neuroplasticity ... inspired by the seminal [book], "The Brain That Changes Itself: Stories of Personal Triumph from the Frontiers of Brain Science". Andrew's physical condition is due in part to his trainer, Lee Campbell, a former army trainer and Sydney Swans team member. The two have been training together for five and a half years, and in that time Lee estimates that his physical condition has risen from 2.5 to a 7 or 8. "You watch Andy pull a sled with 20 or 30 kilos of weights in it, he stands up, his posture is corrected," said Lee. "His finer motor skills now are getting refined. He can hold things, he can cook, he can do his buttons up." Right now, they're training together for Andy's next endeavour, walking the Great Wall of China.
Note: Don't miss the most inspiring video at the link above.
"People always say to me, 'Anyone who runs as much as you do deserves to be skinny.' Of course, what they're really saying: 'If you do all this running, why are you still so fat?'" Early that morning [Mirna] Valerio had led a three-mile group run around the campus of Rabun Gap-Na-coochee School in the nearby town of Rabun Gap, where she serves as Spanish teacher, choir director, and head coach of the cross-country team. She's about to start her second run of the day. Every run, every race, every traverse of a mountain trail, every gym workout, Valerio begins by taking a photo. "To prove that I was out here," she explains. Later, she will post the photos on ... her blog, Fat Girl Running, in which she both writes of the joys of the running life and thoughtfully, humorously, and sometimes angrily rebuts her doubters, who can't believe that a self-described fat person might discover - or deserve - this kind of joy. With a BMI ... above the National Institutes of Health-established line defining obesity, Valerio, a marathoner, ultramarathoner, and trail runner, has emerged as ... a living argument that it's possible to be both fit and fat. "I'm pretty much in love with my body," she writes. "Sometimes I get disappointed or angry with it, but like any long-term, committed relationship, it usually comes right back to love and respect." By making peace with her obesity - or, more accurately, by fighting her disease to a kind of enduring, vigorously active truce - Valerio draws kudos from a formerly skeptical medical community.
Note: Read another great piece on this inspiring woman.
The fact that Richie Parker can ride a bike doesn't sound impressive -- until you see him do it. Same goes for the car repairs he makes using power tools. Parker was born without arms, a disability he's overcome time and time again, ultimately leading him to his job engineering chassis and body components for Hendrick Motorsports, NASCAR's most winning organization. "Based on his resume, I knew he could do the things that I needed him to do, it was more a question of how," Rex Stump, engineering manager at Hendrick, said of Parker. Just like every other hurdle in his life, Parker found a way, placing the keyboard and mouse on the floor, then operating both with his feet to build custom high-performance automotive parts. His story has also inspired countless others, not the least of [whom] is Magic Johnson. After watching [an] ESPN segment [on Parker], the retired NBA star tweeted, "Richie Parker's story proves that you can do anything you set your mind to. We should all stop complaining and giving excuses." Or, as Parker says, "I don't know there's a lot in life ... that I'd say I can't do. Just things I haven't done yet."
Note: Don't miss the most awesome video of Richie at the link above. For a treasure trove of great news articles on other topics which will inspire you to make a difference, click here.
When Jacob Barnett was 2 years old, he was diagnosed with moderate to severe autism. Doctors told his parents that the boy would likely never talk or read and would probably be forever unable to independently manage basic daily activities like tying his shoe laces. But they were sorely, extraordinarily mistaken. Today, Barnett -- now 14 -- is a Master's student, on his way to earning a PhD in quantum physics. The teen, who boasts an IQ of 170, has already been tipped to one day win the Nobel Prize. Since enrolling at Indiana University-Purdue University Indianapolis (IUPUI) at the age of 10, Barnett has flourished -- astounding his professors, peers and family with his spectacular intelligence. The teen tutors other college students in subjects like calculus and is a published scientific researcher, with an IQ that is believed to be higher than that of Albert Einstein. In fact, according to a 2011 TIME report, Barnett, who frequently tops his college classes, has asserted that he may one day disprove Einstein's Theory of Relativity. Outside of his rigorous university commitments, Barnett, who has Asperger's Syndrome, is also an entrepreneur and aspiring author. The teen, who, with his family, runs a charity called Jacob's Place for kids on the spectrum, has used his story to raise awareness and dispel myths about autism. In April, [his mother] Kristine Barnett's memoir about her family's experience with autism, The Spark: A Mother's Story of Nurturing Genius, was released. A movie deal is said to be in the works.
Note: For the CBS 60 Minutes piece on this child genius, click here.
The crowds that 25-year-old Nick Vujicic draws as an evangelist would have been unimaginable only a few years ago, and impossible had he been born under other circumstances. "In some third world countries ... I would be seen as cursed, a shame to the family," said Vujicic (pronounced VOY-chich). "The possibilities of me being killed at my birth would have been quite high." But Vujicic, who was born without arms or legs, does have one of the most powerful of all human attributes: a voice. Through the ministry he calls Life Without Limbs and a motivational program titled "Attitude is Altitude," Vujicic said he has made 1,600 speaking appearances in 12 nations. "No matter who you are, no matter what you're going through, God knows it," he said. "He is with you. He is going to pull you through." Like all skilled evangelists, he can imagine the deepest vulnerabilities of his listeners, especially among teenage audiences. "I used to think that I needed my circumstance to change before I had any hope," he said. "I wanted to know that there was someone else out there in my position, to know that there is hope, that there is more than just the little box that I see in my life." He cannot avoid the reasons why people are fascinated by his physical condition, and he uses it to his advantage in his speeches, often delivered from a tabletop in front of the audience. He says it lends credibility "to know that somebody has been through something, that they've learned something that you know you need to apply in your own life."
Note: Watch an amazing four-minute video titled "No arms, no legs, no worries," on this inspiring man. Nick has overcome challenges that are almost guaranteed to make your problems seem like nothing.
An autistic teenager has become an online sensation after a video demonstrating his unique technique as a barista - which involves plenty of dancing - went viral. Sam was filmed making a cup of coffee for a customer while working alongside his boss Chris at the Starbucks restaurant, believed to be in North America. The clip shows the teenager smiling and dancing while heating the milk and later pouring it into the cup of coffee, before adding whipped cream and sprinkles. Carly Fleischmann, who lives in Toronto, Canada, posted the video to YouTube and Facebook alongside a caption introducing Sam. Carly explained that when Sam was offered a position at Starbucks he told his parents that for the first time in his life he felt like he had real meaning. She added: 'Sam was diagnosed with autism and like some people with autism Sam has a movement disorder. Sam has a hard time keeping his body still. 'Sam never thought that he would be able to work behind the bar because of his sudden movements, but his manager Chris believed in him and got Sam to channel his movements into dance.' The partnership was not an overnight success however and it has taken Sam and Chris many shifts and hours to get to the level demonstrated in the video. Sam is now known as the 'dancing barista' and Carly noted that if it was not for Chris believing in the ability of his employee then he would not have had the confidence to believe in himself.
Note: Don't miss the inspiring six-minute video of Sam and Chris on the Ellen DeGeneres Show.
Dan Nevins commands his yoga class with authority. For Nevins, teaching yoga is much more than a job. It actually saved his life. Eleven years ago, while serving in Iraq, an IED exploded under his Army vehicle. The blast destroyed both his legs. "I just remember having this revelation that I'm alive, I'm alive! That I better do something to keep it that way." Nevins spent 18 months at Walter Reed Medical Center. With the help of the Wounded Warrior Project, he learned to climb mountains and play golf. But two years ago, while recovering from another surgery, he was bedridden and started having flashbacks. "And those thoughts of the not-so-great experiences from combat just kept coming back. I didn't get to the point of suicide, but I finally understood in those 8 weeks at home and I knew that I needed help." A friend suggested yoga to Nevins. "I was like 'No. One, I'm a guy; Two, I'm an Army guy; Three, I don't own any spandex, and no.'" Despite his reservations, he finally relented and took the class. "I got into this Warrior One pose. I rooted down and I felt this real surge of energy from the earth up into my body like into my soul and I shot up like 'Oh my God, I get it,' like the earth was saying 'where have you been the last ten years.'" Last year, Nevins completed yoga instructor training. Now hundreds of people come to his classes. "I felt if he can do it without legs, what's my excuse," said one student. Nevins hopes to reach both veterans and non-veterans alike.
Note: Don't miss the pictures of this inspiring yoga practice available at the link above.
Important Note: Explore a treasure trove of concise summaries of incredibly inspiring news articles on all topics which will inspire you to make a difference. Then check out our full index to revealing excerpts of key major media news articles on several dozen engaging topics.
See the exceptional collection of resources in our Inspiration Center
Kindly support this work: Donate here
Subscribe here to one of the two popular PEERS email lists